i heart alfie kohn - just to put that out there right now.
what a rad guy.
i thought the dvd would be a great way to get choo choo on board with some of the parenting ideas i'd been reading about and was always trying to paraphrase for him.
because what makes complete and total sense to me while i'm reading never seems to come across as well when i try to reiterate it for the chooch.
and it's big stuff.
big stuff that i want to (try to) get right.
i want him to be as on board and interested in all this parenting stuff as i am - and he is.
he's just not as inclined to devour books about it.
so i bought the unconditional parenting dvd.
i knew it would be great but it's really, really great.
the production quality ain't much to write home about, visually it's a bit dated and there are no fancy special effects or anything but watching and listening to alfie kohn discuss the principals of unconditional parenting, which he's very passionate about, is so inspiring - and it really helped solidify the material in the book.
and, most importantly, it got the chooch excited about what i'd been trying to describe to him.
i mean, who better to describe the details of the book but the author himself?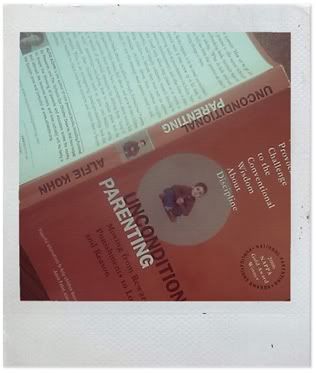 we were super stoked and surprised to see that alfie kohn had a rare west coast speaking engagement over the summer.
i jumped online to buy tickets to see him with the kind of enthusiasm i've had for buying concert tickets! sign of the (parenting) times, heh.
he was doing a little book signing meet-and-greet before he spoke so we got a book and chatted with him briefly before he began.
the talk he gave was largely centered around education - more specifically about alternative schooling and learning - but what it was interesting because the overall undercurrent still went back to his principals of unconditional parenting. it was such an interesting lecture.
he's a really talented public speaker... he knows his stuff, that alfie kohn.
both chooch and i felt really lucky to have had the opportunity to hear him speak...
he is incredibly inspiring.
so, as kind of an ongoing series, i thought i'd go over the "baker's dozen" (as he puts it) principals of unconditional parenting.
talking (or typing) these things out really helps me feel prepared for what's to come... so i'm takin' it to the blog!
here they are all at once... and i'm going to write about them one by one in future posts... it's a good opportunity for me to re-read the book and meditate on it a little at a time:
1. be reflective
2. reconsider your requests
3. keep your eye on the long-term goals
4. put the relationship first
5. change how you see, not just how you act
6. R-E-S-P-E-C-T
7. be authentic
8. talk less, ask more
9. keep their ages in mind
10. attribute to children the best possible motive consistent with the facts
11. don't stick your no's in unnecessarily
12. don't be rigid
13. don't be in a hurry
amen.
more soon on all of this...