it's semi-new to me and, i have to say, i'm into it (though if i were to judge it by its graphics – as i've been known to do – i would discount it immediately based on the horrible header. i'm a jerk that way, sorry.
the site's great, it could just be so much cuter.)
bad graphics aside, i've bookmarked a handful of recipes to try and since i had everything in my cupboards and fridge to make
granola
– with a few modifications – i thought i'd hop to it.
here's the recipe with my substitutions and additions noted at the bottom:
Wee Granola (makes 4 1/2 Cups Granola)
2 Cups Rolled Oats (make sure not to use the 1 minute oats)
1/2 Cup Sliced Almonds
1/2 Cup Cashews, chopped
1/2 Cup Sunflower Seeds
1/2 Cup Raisins and/or Currants
1/4 Cup Dried Cherries (you could also use dried blueberries)
2 Tbsp Wheat Germ
1/2 Tsp Cinnamon
1/2 Cup Honey
1/2 Cup Vegetable or Canola Oil
1. Preheat over to 275 degrees
2. Place all the ingredients in a mixing bowl, stir until completely combined.
3. Place the granola mixture on a cookie sheet and spread it out until it covers the sheet.
4. Bake for 30 minutes.
5. Stir the granola on the cookie sheet and bake another 40 minutes. Remove from the oven and let it remain on the sheet until it's cool before stirring (this way it will be a little crispy and chunkier which is fun for kids to break up with their spoon).


i didn't have currants so i only used raisins... and i used goji berries instead of dried cherries... and i used a mixture of about 80% raw agave and 20% brown rice syrup instead of the honey... and i used coconut oil instead of canola oil... plus i added a handful of pepitas, two tablespoons of chia seeds and a spoonful of almond butter... and a handful of cacao nibs which
made
the granola.
so i stirred all that up and baked it as per the instructions... though next time i will add the goji berries after all is said and done because they didn't hold up in the heat. and i'd probably throw a handful of raw coconut flakes either at the end or a few minutes before it's done. yum.
and i would probably bake for 30 minutes, stir, then bake for another 20-30 minutes instead of the 40 the recipe called for.
the end result was deliciousness – even though it looks a little like barf in the photo below.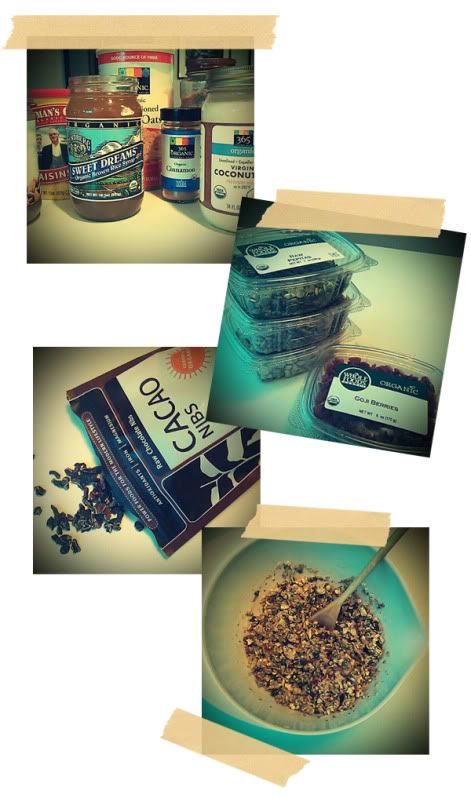 bowl + granola + coconut milk + spoon = yum city, usa