summer's here and i'm quite happy to have a few essentials at the ready to take on the bumps, bruises, bites and burns that come with the territory. it's so much better than
wishing
i had something when i need it.
i'm no expert and this certainly isn't a definitive list but here are a few things i'm keeping at arm's reach: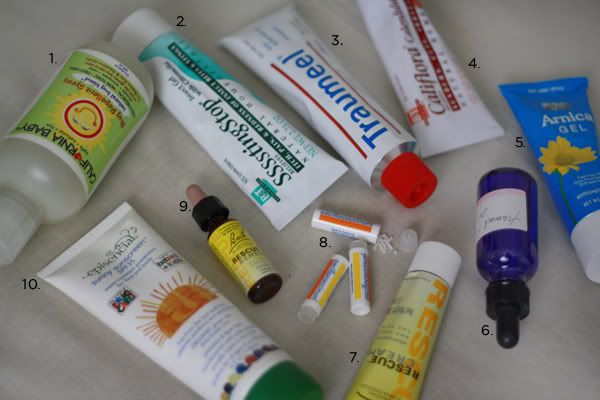 1.
california baby bug repellant spray
: dudes, this stuff works. i get eaten alive by mosquitos and when we were in baja in april i made it an entire week with only 3 or 4 bites. a personal record. i think bonzo may have inherited chooch's mosquito-proof dna because he didn't get one. single. bite. but i sprayed his little legs and arms in the evenings just to be safe.
2.
ssssting stop
: you know, for the 3 or 4 bites. really helped me not itch my skin off.
3.
traumeel
: good for lots of stuff – bumps, bruises, pains, aches.
4.
califlora calendula gel
- good for cuts and sunburns and i'm sure a lot of other stuff, too. nice alternative to other first aid type ointments.
5.
arnica gel
- i keep this one (whole foods' brand) in my bag so it's with me all the time and i can rub it on bruised knees or bonked heads while we're out and about.
6. homeopathic remedies/flower essences - it's always nice to have a little preparation from our wonderful naturopath. for me, bonz and/or chooch. it varies each time, based on what we need, which i love.
7.
bach rescue cream
- also good for bumps and bruises and such. this one is okay to apply on broken skin, or so says our naturopath. also a good one to keep in my bag.
8.
oscillococcinum
- even though summer's not really cold/flu season, i like to have this on hand to take if i'm feeling run down or if i've been around people who are sick. this, along with elderberry concentrate are
always
stocked at our house.
9.
bach rescue remedy
- good for stress and anxiety.
10.
episencial sunny sunscreen
- i love this one for bonzo. we've tried – and still use – others but this one rubs in really well and doesn't leave bonzo chalk-white and sticky which, i think, is a selling point. but i still wish there was a sunscreen out there that wasn't filled with gross ingredients that went on
super
fast. just because applying sunscreen on a busy toddler who... well...
hates
having sunscreen applied is one of my least favorite activities.