last week, me and bonzo met our best buddies for a little look-see field trip at the newly remodeled and almost completed
airport
.
as soon as we parked, we saw major construction equipment tearing up and moving old asphalt. excavators excavatin'! loaders loadin'! workers workin'! it was awfully exciting. i mean, that could have been the entire outing and bonzo would have napped a happy camper.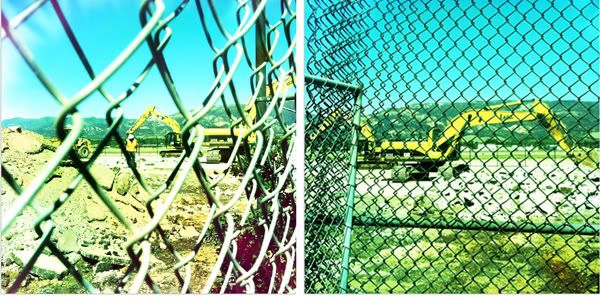 then we made our way to the outside waiting area at the terminal to watch the planes but something else immediately caught bonzo's attention:
george rhoads
' kinetic sculpture, good time clock IV (1984).
bonzo was mesmerized. it's a
really
mesmerizing piece. but he'd never seen it before and he could hardly believe his little eyes. the chain carried balls up to the top then start them rolling down the track and he'd squeal and happily stomp his feet watching them take different turns, go different directions, bounce, loop and chime the chimes as they made their way back down to start it all over.
it's such genius. so totally elaborate and well orchestrated. and so entertaining.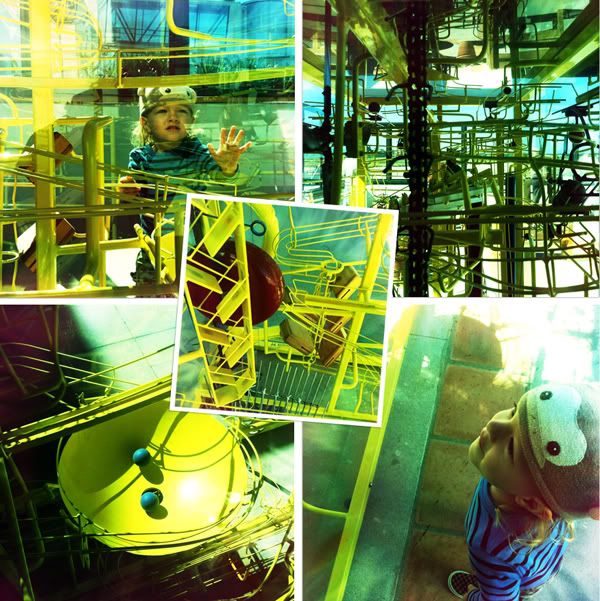 remember
mouse trap
?!