a couple weeks ago i noticed some little black dots on the windowsill underneath the mint sprigs i'd just cut from the garden.
after taking a good look at the leaves – and missing it twice – i spotted a little, green caterpillar friend.
he'd gone on a joy ride from the garden to the kitchen, all the while chomping away on his minty leaves.
and boy was bonzo excited to watch this guy in action. so we figured since the caterpillar was happy on his leaves, and bonzo was happy watching him, that'd we'd just let everyone be happy and see how it shook out.
bonzo would race out to the kitchen first thing and shout, "gooooood morning, callepeller!" and we'd look at all the leaves that were eaten down to stumps since we'd seen him the night before.
then one morning we looked and he wasn't there. gulp.
did he split? where would he go? he's
not
on the leaves. okay gross, am i about to step on a caterpillar?
but then – there he was, under a leaf, camouflaged as can be, mowing through the mint, mouthful by mouthful.
fast forward to the next morning.
"callepeller?"
i searched each and every leaf this time. he was no where to be found.
i tried explaining to bonzo that he may have wanted to... um... go back to the garden.
but then lo and behold, our friend was under a leaf, busily making a cocoon for himself.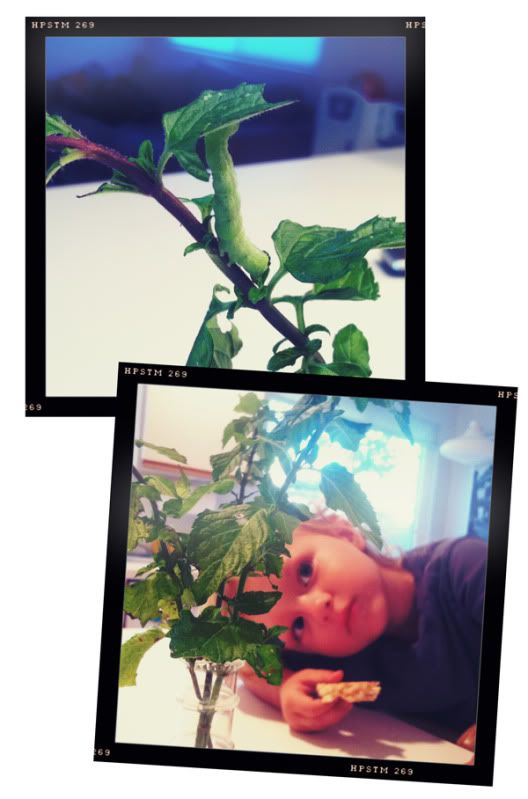 we transfered the whole set-up to a sprouting jar with a mesh lid and we've been waiting patiently to see what comes out of the cocoon.
i'm not very convinced that
anything
will come out at this juncture – but we'll wait and see.
bonzo was much more partial to watching a green guy chomp away at leaves than a motionless little caterpillar hidden behind white cocoony fluff, clinging to the underside of a leaf anyways.
so if the whole experiment just kinda
goes away
someday, i don't think he'll be too concerned. and, between you and me, i think that's the direction this whole thing is going.
... and so begins the random-experiments-in-jars chapter of our life.