dude.
out of the frying pan and into the fire? check.
we all got hit. again.
it started with me – and if it'd ended with me, i would have just thought i had a common cold. no huge deal. but then it hit bonzo, seeming entirely like a cold as well. but with a couple days of a fever sprinkled in and wrapping up with a cough.
then
it hit the chooch. it was exactly what me and the bonz had but a whole lot worse. the flu.
i guess we all had it, just in varying degrees. and from what i gather, it's quite easy to mistake the flu for a cold – until it hits like a ton of bricks, that is. poor chooch. and poor bonz, too. my poor guys.
anyways, we're on the mend now. i'm totally fine. bonzo's just got a lingering runny/stuffy nose and a bit of a cough. and chooch is pullin' up the rear, slowly but surely coming along.
now it's serious operation-immune-system-rebuild time over here. i mean, we already eat clean and healthy as a rule.
especially
bonzo. but it's all going to a whole new level now.
bonzo'd gone an entire two and a half years without getting sick and then got hit twice in one month's time? and the chooch and i so rarely get sick either. after a full two weeks of being
totally
recovered from round one, i guess we were extra susceptible because our immune systems had been so worked over – so we're stepping up our game over here in a
big
way.
oh, and maybe never leaving the house during cold and flu season again. i'm only half kidding.
i was so happy with yesterday's eighty-something-degree weather, let me tell you. every single window in this house was open from morning 'til bedtime.
next week? i'm calling a cleaning service to come clean this house from top to bottom. germs begone!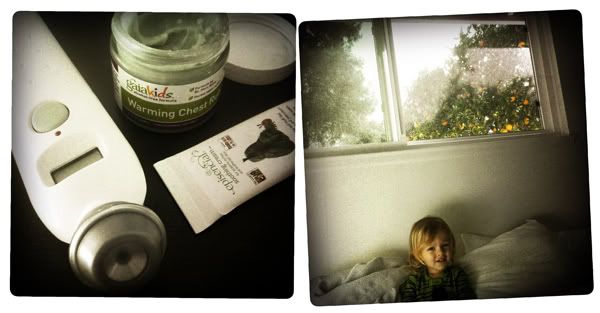 my arsenal:
gaia kids warming chest rub
for bonzo's chest and back,
episencial's soothing cream
for ouchy noses and our
digital scanner thermometer
. oh that thing got some mileage put in it this week.
and wide-open-windows in the morning. warm, fresh air. glorious.