i've mentioned
before
that bonzo loves to talk about when he was born.
loves
it. and he likes to compare his story to what's going on with my belly – with ours baby.
enter: visual aid.
i made a book with
blurb
, especially for bonzo – it chronicles his whole entire life from when i was first pregnant up until the day i hit "publish" and "buy now" online a couple weeks ago.
it hits all the high-points:
photos of my growing belly, us getting his room and things together, friends and family celebrating at my baby shower, an even bigger belly, brand-new-born bonzo and – according to him, most importantly –photos of his first nursies. then it's followed up with a bunch of newborn-bonzo pictures of him nursing, sleeping, nursing, cuddling and nursing. then there's a rapid-fire spread of his development – sitting, standing, walking – all the way up until the last photo of him a couple weeks ago. oh it's cute stuff.
the intent behind the book – aside from just being a special thing for my special guy – is to help him make the connection between what's happening now, in this pregnancy, and what happened when he "started out teeny tiny in mommy's tummy". and it's a good visual for what newborn babies do. ours baby will do just like you did, bonz: nurse, sleep, nurse, cuddle and nurse.
we talk about it a bunch. i follow his lead. sometimes we only talk about his story, sometimes we talk about ours baby. sometimes we talk about both. either way we love to flip through the pages and oooh and aaah over the cuteness.
so far bonz thinks ours baby will be a boy.
the frontrunners in the name-department are: pantsy and shook-keee!
they've been added to the list and are under careful consideration. of course.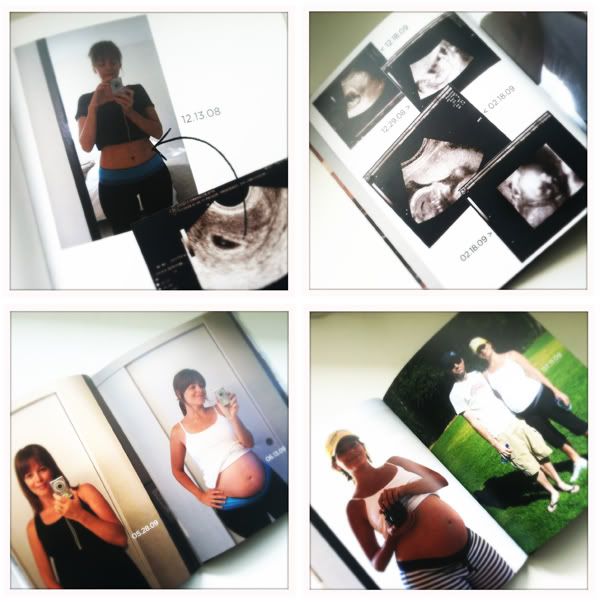 [does it go without saying that i have no affiliation with blurb? i assume it's obvious but if not, i don't.]