in preparation for an impromptu morning at the zoo – just me and my guy – i decided to make a trusty stand-by to add to our picnic: greenwa.
really, it's quinoa with broccoli – or sometimes spinach, or sometimes both – mixed in. but since it's green and it's quinoa we call it greenwa.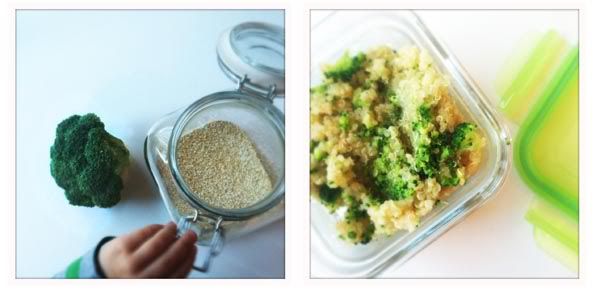 it's quick and easy to make, super nutritious and packs really well.
i threw it together while me and the bonz had our breakfast and then added it to our lunchbox and out the door we went.
it's so simple that it's a bit ridiculous to even share how we do it but it's such a hit that i'm doing it anyways:
1. make quinoa: rinse 1 cup of quinoa really, really well (i use my trusty mesh strainer) then put it in a pan and add 2 cups of filtered water. bring to a boil, cover, simmer for 15 minutes. fluff with fork.
2. blanch some broccoli: boil water, toss in the florets, remove with slotted spoon or drain after just a couple minutes and rinse with cold water. broccoli will be bright green. (when i do spinach i steam it lightly).
3. chop up the greens up finely. i don't use much of the stalk, mostly the tips.
4. add it to your quinoa and combine. (usually i do a bit more broccoli but this is what i had in our bare fridge this morning).
5. top however you like. bonzo likes any combination of olive oil or pasture butter, soy sauce, nutritional yeast.
we parked ourselves on our picnic blanket under a shady tree next to the lions and listened to the waves crash on the beach across the street. bonzo downed the entire container of greenwa i packed – along with just about everything else we had – and then we carried on with our lovely little day at the zoo. heaven.