my dear friend has two little dudes. one's almost exactly bonzo's age and her youngest is about to celebrate his first birthday. both bonzo and i love all three of 'em – lots.
the other day we headed down to their house for a playdate that turned went from fun to
mega
-fun as soon as we the telltale yellow hue of heavy equipment.
it just so happened that there was some major work being done right where we were headed for our picnic lunch. i'm sure some people would be bummed to see – and hear – that situation just yards from an otherwise peaceful grassy spot at the park. not us. i'm not sure who was more excited, the boys or their mamas on their behalf.
we spread out our picnic blanket, took a seat and had a bite while the boys squealed with delight watching these giant loaders scoop huge bucketfuls of gravel, back-up and dump it into the dump truck. there was lots noise and commotion and these two pals were pleased as punch with their front row seats for the action. we couldn't have wished for a better day's activity for these buddies.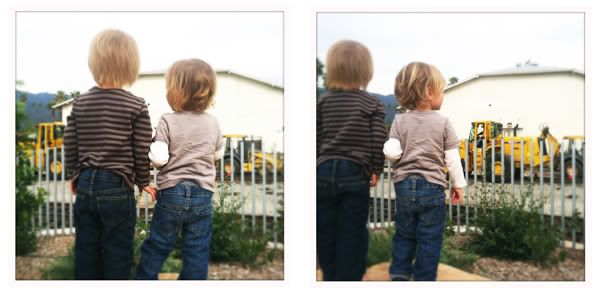 bonzo, out of sheer excitement, went in for the hug – which, in this case, looks a little more like a headlock than a gesture of love but it's the thought that counts, right?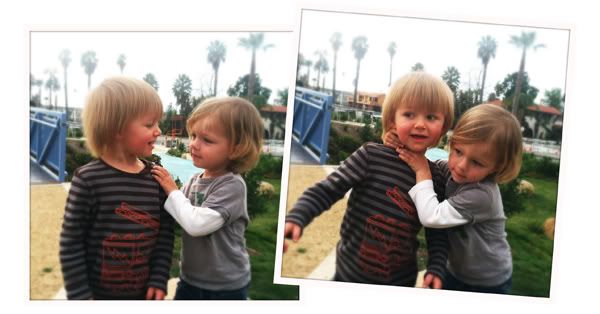 and he was almost equally as excited to borrow his pal's helmet – first for riding trikes in their back yard, then afterwards for our walk and even for a bit of equipment-watching at the park. he was just so happy to wear it and it was just about the cutest thing i'd ever seen: this giant styrofoam bubble atop his little noggin, strapped gently beneath his sweet little chin, while he's in the stroller and then watching all the work. he was just so proud and satisfied wearing it. there are not enough pixels or words or seconds in the day to describe how much i love him.