last night's dinner was a crowd pleaser. everyone had seconds and there were high-fives all around. it turned out to be the perfect way to wrap up the first day of spring: sitting at the table with my people, sharing a homemade meal.
i made
gp's
spaghetti limone parmeggiano, friends. she's not kidding when she says it's easy peasy. it
is
. but it's as delish as it is simple – so basically it's perfection.
i served it with a basic green salad. just butter lettuce, tomatoes and, also from gp, what is now
my
standby vinaigrette
.
i'm certain this pasta would taste just as yummy leftover and cold but, since we ate every last bite, i can't speak from experience.
anyways, the whole lemony shebang just tasted like spring to me. yum yum.
spaghetti limone parmeggiano
• 3/4 lb. (3/4 box) spaghetti (i used rigatoni so it'd be easier for bonzo to eat)
• 1 lemon
• 1.5 cups finely grated fresh parmesan cheese – plus extra for serving (i got a super good wedge at whole foods and would definitely say that the better the cheese, the better the dish. obviously.)
• .5 teaspoon freshly ground black pepper
• 2.5 tablespoons extra virgin olive oil
• 3-5 tablespoons pasta water, to thin
• handful fresh basil leaves (from 4 leafy stems)
boil the pasta in salted boiling water according to package directions.
meanwhile, using a microplane, grate the zest from the lemon into a large mixing bowl. cut the lemon in half and squeeze the juice into a the bowl. add the parmesan, pepper, pinch of salt and mix in the olive oil to form a wet paste.
when the pasta is perfectly cooked, add 2 or 3 tablespoons of the cooking water to the lemon and cheese mixture. add the pasta to the bowl and toss thoroughly, adding another tablespoon or two of pasta water if ncedssary so that the sauce coasts each strand.
add basil, serve with a sprinkle of coarse salt (which i skipped), a fresh grind of pepper, and a few gratings of extra parmesan. let's just say bonzo had a
couple
gratings of extra parmesan. he loooooves it.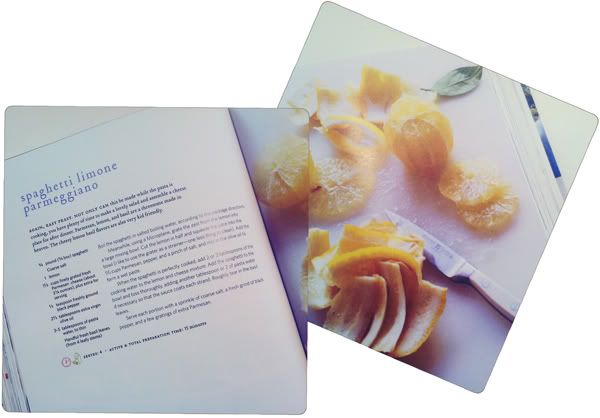 ps: it's always
something
, right? sigh.