last week bonzo had his first appointment at the dentist for a cleaning. i was a bit worried and pretty much could
not
imagine how it would go. basically, i couldn't even fathom bonzo opening wide and letting a masked stranger into his mouth with various instruments. but i tried to play it cool – i didn't want him to pick up on my hesitance.
so, like we do for
new experiences
, we did lots and lots of play around the topic leading up to the big day. we talked about what we'd see and hear and we practiced a bunch, too. sometimes i'd be the dentist, sometimes he'd be the dentist.
he was intrigued and seemed pretty open to the idea but wanted to make triple-sure the dentist was going to be gentle. i reassured him that she'd be gentle as a kitten.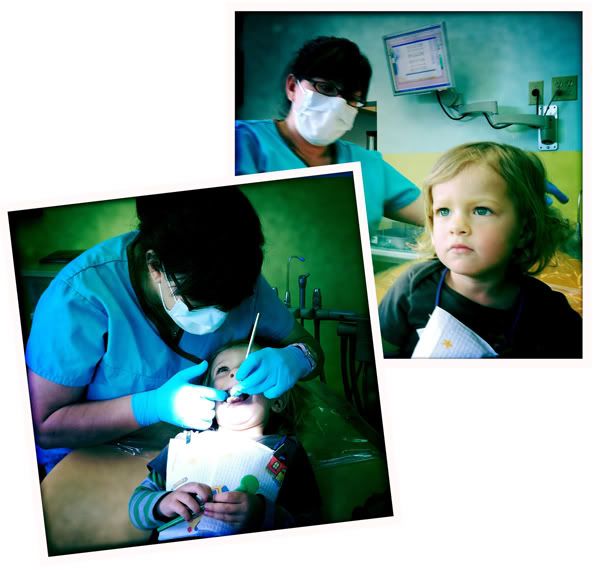 when we got there, the dentist introduced herself and we all said hello. right as she started talking to bonzo about the first couple things we'd do before going into the room bonzo goes, "and you'll be gentle as a kitten!"
and she was, right bonz?
she showed him every little thing she'd do and let him touch and try everything. he was totally cool about it all until it came time to polish his bitty little teeth. then he was over it and ready to go home. we talked it over for a minute and switched from the up-and-down chair with me right next to him to me holding him in my lap and got through it lickedy-split.
we left there smiling with a sticker, a toy, a new toothbrush and a fancy flosser.
you did it, bonzo!