bonzo's been pretty stoked on all the
getting-ready-for-baby
we've been doing around here – both in the physical sense: baby stuff! and the emotional sense: playing baby!
the other day we set the co-sleeper up on the other side of
our bed
. it was pretty under-used for bonzo (live and learn) but i'm thankful we still have it because it's giving us some more real estate in what is, granted, an already pretty large family bed.
bonzo could hardly stand the excitement of setting it up. he was so excited to be "the first one to get to 'sample' it" he could hardly contain himself. and i get it – it's exciting! new (to him) stuff just awaiting exploration? perfect.
but of course the thing was totally more complicated to set up than chooch's memory served so it took a few minutes longer than the five we'd bargained for. and bonzo's not-quite-three and working on patience. but it's – ahem – a work in progress, you know?
enter: heavy duty feelings.
waiting is hard. bonzo's excited. things are lagging... time to let it rip.
he had a big cry but i could tell that he was still distracted – he was just waiting for the co-sleeper to be set up and i could tell that once it was, he'd instantly shift gears into "sampling" mode. and i didn't want to hold him back from it just so he could empty the ole feelings tank – even though i would normally try to minimize (read: eliminate) distractions to maximize offloading. i just didn't want the negativity around the baby stuff. so i held him and he cried, chooch finished setting the thing up and he eagerly dove right in. and he was in a better space than i thought he'd be with it, too – but i could tell there were still some feelings there that needed to come out. and i knew they would. and probably soon.
we laid out some ground rules right away: no standing or jumping feet in the co-sleeper! it's okay to get in it now and it'll be okay to get in it when ours baby is born – but not when ours baby is in it. we demonstrated with hooty, bonzo's trusty ours-baby-stand-in. he gets it, i know he does.
fast forward an hour or two.
we're outside in the backyard and i'm picking up fallen apricots (oh apricot season, i love you) and bonzo's hanging out, happy as a clam, sweeping and raking. then i started to water. bonzo usually loves the hose but not today. today he had an idea or two about watering. specifically where and how i was watering. at this point i see the flashing neon sign above his head: hey mama, the rest of those feelings from earlier? here they come!
he screamed at me for watering the garden. screamed. and cried. if memory serves his bitty body was even flung to the grass in a display of disdain. he was imploring me not to water there! just don't do it!
oh dear.
i calmly turned off the hose and picked him up and put him on my lap. he didn't want to be held but he didn't want to be put down (neon sign, people) and he was hysterical and still shouting at me not to water the garden: "no, mama! no! nooooooooooooooo!"
i decided to bring him inside so the neighborhood could have some peace and because i thought it was best to move away from the scene of the crime and just let. it. rip.
part of me wanted to tell him not to scream at me because it was so 110% directed at me, in my face, and loudly and i was feeling like correcting that – we don't scream at people, friend.
but i knew that the screaming at me was the path his feelings needed to take and that it wasn't – directly or even consciously – directed at me. so he kept wailing and screaming "no mama!" at me. it was so hard to hear and not take to heart. but thankfully my rational mind was able to keep me on track and calm. so he sat in my lap and cried and cried and cried and screamed at me with fervor. and then he calmed down about 15 minutes later. but even then i could tell there was a little more that needed to come out. but he was clearly done crying. so i decided it would be fun to laugh – we could reconnect and get silly and he could finish the off-load that way. so i decided to take the fury away from shouting "no!" at me and turn it into something else entirely.
i said, "let's shout 'no!' some more, wanna?" and his face lit up like a christmas tree and we took turns shouting. but funny shouting this time. punctuated by big belly laughs (no pun intended on my end) and silliness.
"no, couch!"
"nooooooo, lamp!"
"NO, walls!"
"noooooooooooooooo, rug!"
just no! no! no! to everything in site.
we shouted and laughed and laughed and laughed. bonz got it out. every last drop – you know, 'til next time. it felt so good. after that we cuddled, nursed a bit, drank a giant glass of water and had a little snack then carried on with the rest of the afternoon like nothing ever happened. i love how he reminds me not to hang onto stuff. feel it, move on. such a teacher, that guy.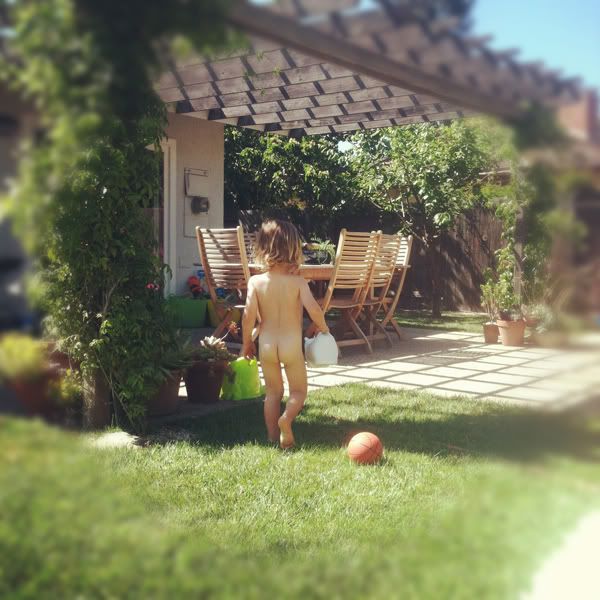 this photo is from a happier time in the garden. but... those buns! oh, i just love them so.