it seems like an awfully long time ago that i was 18 weeks along and sharing some
pretty special news
... and even then, i was almost to the half-way mark.
so it's pretty hard to believe that june is officially upon us.
hello, june. how'd you get here so quickly?
we've been in high-gear over here getting ready. for the duration of this pregnancy i kept thinking we were on easy street as far as preparations were concerned. i figured we already had everything we needed from bonzo and we just needed a few tiny diapers and maybe a new onesie or two.
yeah.
let's just say that, while i haven't gone
totally
off the rails with the new-baby-acquisitions, we have had to do our fair share to get ready for this little bundle. almost all self-imposed. by me. because, in truth, we probably could have gotten by with buying a box of tiny diapers.
but i digress.
yesterday was an all important day for this mama. we took care of a list of pending things and it's been glorious.
first and most importantly, we hired a cleaning service to come to the house and do a nitty-gritty, nooks-and-crannies cleaning job from floor to ceiling, room to room. i cannot overstate how happy a clean house makes me. it's about as good as it gets, really. i actually get a lot of satisfaction from cleaning it myself but at this juncture? oh it was like heaven on earth having it done for us. and they did a
seriously
deep cleaning. the kind that takes all day long.
after they left, we moved in a few things that we'd been waiting to move in and set up. we got a simple
changing table
for our room since it made sense to have one where all the action is. and i put the baby-stuff-filled baskets on its shelves. and we set up bonzo's little swing, and bouncy seat got the infant car seat out.
it was super important to me that these things be set up a week or two in advance of the baby's arrival. i wanted bonzo to have ample time to experience all this baby stuff – to play with it and check out.
for weeks and weeks and weeks, we've been talking about the baby. i follow his lead – sometimes he wants to talk about it, sometimes he doesn't. but when he does want to talk about it we talk about it
all
.
we've been talking a bunch about how when ours baby is born, it's going to be a new experience for us all and that sometimes it's going to feel wonderful and sometimes it's going to feel really hard for us all – and how it's okay if sometimes we feel like it's not very fun or if we feel sad or mad.
we talk about – and practice – holding babies and what kinds of voices we use when we're close to the baby: soft ones!
we talk about how when ours baby cries it doesn't mean that ours baby doesn't love us, it just means ours baby has some feelings to let out.
we're talking about how when ours baby is born, we'll be away overnight. it'll be the first night me and bonzo haven't slept 0 - 10" away from each other. yes, it gives me total anxiety but he'll do rad, i know it. my mom – his meme – will be here with him and they've got a good thing goin' and i know everything will be better-than-fine. she's got some tricks up her sleeve for him to make it a really special time for him, too. i have
no
reason for the anxiety. and yet...
we've been doing
lots
of play around this new chapter in our lives. lots of it. play is such an important way for these tiny humans to process big changes. laughter – and tears, obviously – is a major way for them to experience and offload feelings. even feelings they may not even realize they're feeling. having time to explore and experience all this new baby stuff before the baby's actually here will, i hope, give him the space to practice and understand how everything works and work on some of his feelings. i really want to try to minimize the line between baby's stuff and bonzo's stuff, too. even though some things will just be baby's and some things will just be bonzo's, i don't want him feeling like he can't touch, hold, and experience all this newness. from all the stuff to the actual baby!
he's been wanting to play "newborn baby" a bunch. he almost always instigates it. sometimes totally out of the blue. he wants to kick his little feet like a baby, cry like a baby, be swaddled like a baby – you name it. and we dive in head first to the play!
yesterday we spent some time putting a diaper on hooty (as you can see below) and practicing what kinds of swinging ours baby might like if ours baby was in the swing. hint: super gentle taps, not pushes!
later this weekend we're going to set up the co-sleeper to our
co-sleeping-jackpot bed
and start getting used to that idea as well. i'm sure there will be lots of play around that, too.
i know none of this is the least bit of a guarantee that the post-baby waters will be smooth. i am prepared for some doozies, friends. from us all, really. it's going to be a massive transition. but, along with the play, me and the chooch are having lots of talks about the tools in the ole' toolbox. we're going to need to seriously ramp up on the
special time
. it's easy to let it slide but if ever there's a time to get serious about special time it's now. and, you know, for the next couple years!
we're fully prepared for – and hopefully
awake
enough to execute – lots of special time and laughter, lots of love and cuddles, and lots of limits. stoke-extinguisher, i know. but dudes, as important as special time is, limits are right there, too.
hugely
important. the absence of limits does not a calm and secure child make. they can be hard to set and harder to hold but boy howdy they're of critical importance. now more than ever.
so, yeah. me and choo choo are doing some serious prep – and it's not like we're waiting for baby, it's all happening n-o-w because feelings are popping up now. change is knocking at the door.
and even with all of this, hard days and rocky roads are ahead. it's a certainty. but, in an effort to take some preemptive action, we're gettin' busy playing, talking and feeling.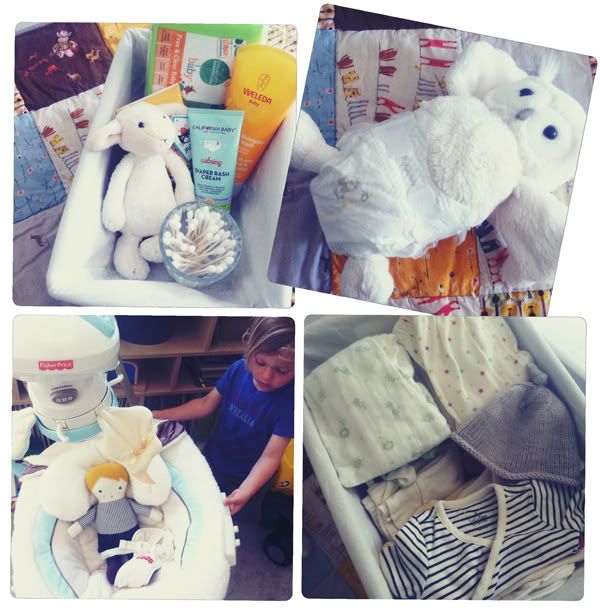 oh and i was the very lucky recipient of the most lovely, adorable and beautiful baby quilt (and tote bag!) from my
dear sweet friend
. the cuteness actually hurts my heart – in the very best way. she's the genius behind
willowship
and, if i were you, i'd be keeping my eyes peeled on her shop for more juicy goodness along these lines. i mean, the owl flying away with polkadotted undies off the clothesline? come on now.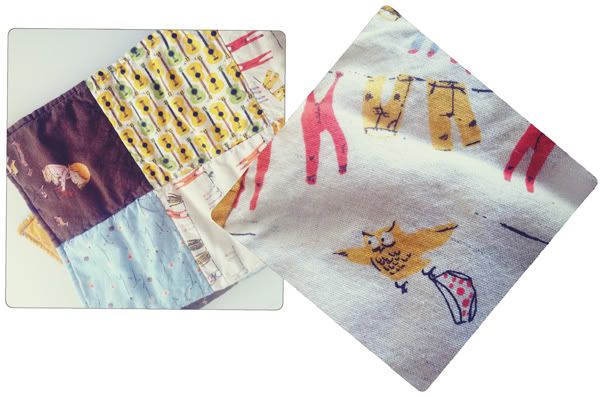 look at this goof playing "orangutan" in his old car seat. it's hard to believe he used to actually fit in it.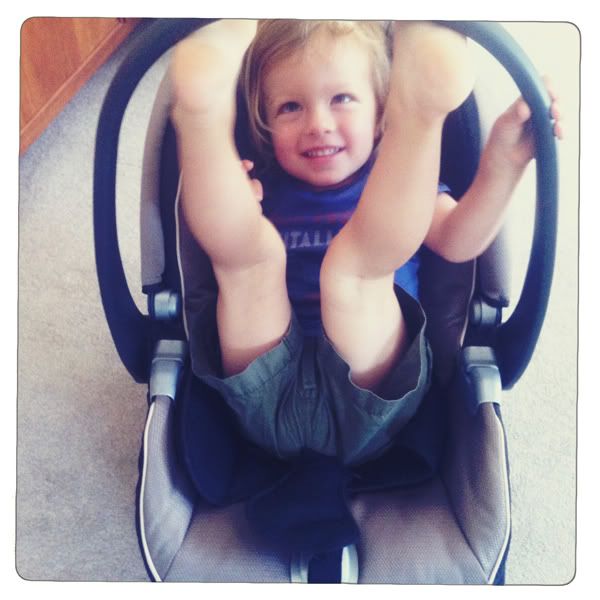 it's hard to even put into words how much i love this guy...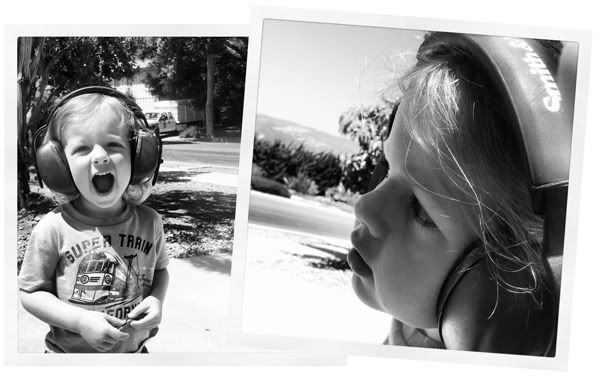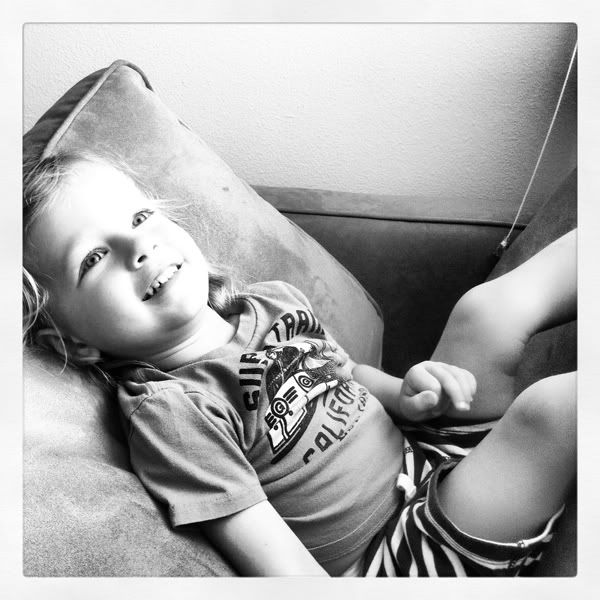 the countdown is on!
i feel like it could be any day now but i'll be eating those words as the due-date (the 16th!) approaches, i'm sure...
xx