i've mentioned before that we're taking the no-approach approach with the potty. i haven't felt
any
desire to rush things along and have been quite happy to follow bonzo's lead and just let it all unfold as it's meant to: on his timeline.
i'm not into coaxing and rewards aren't our thing either. and i certainly don't want to put any pressure on him – however subtle or overt.
i've wanted to be extra sensitive around the whole issue, honestly. it's such a vulnerable time – and adding a new baby to the scene? forget it. i didn't want to throw
anything
extra at my guy.
but that's not to say we never talk about it. sure we do – i just follow his lead. he was excited to get his
potty
and thrilled to sit on it, inspect it and play around with it. then one day, he wanted to try it
for reals
. so he walked right up to it and went peeps. standing up! then he didn't show much interest again for some time. which was fine. then he got interested again and started using it again. then eeeeh, not so interested again.
but he's always been enthusiastic when he
is
into it. he would peeps in his potty, dump it into the toilet (without even spilling – thanks bud!) and flush, then wash his hands with soap and water. then come running to find me to report, pleased as punch.
recently he started showing interest in using the big toilet so we re-outfitted his bathroom to accommodate him and i'm so glad we did. we got a
stool
for going peeps in the toilet and a
little seat
for practicing sitting for poops. his little potty has since fallen by the wayside and he's using the toilet with regularity. it's rad. i'm so stoked for him and i love watching him take real pride in himself and i love knowing that he's finding his way on his own timetable, with his own intrinsic desire to do it.
and talk about pride – today he let me know he needed to use the potty. like, as in number two, people. and he scurried off, put the seat on the toilet, climbed on up and went. previously he has shown no interest in doing this. i've always told him that he can go on the potty when he's ready but if he's more comfortable, he can go in a diaper. and he's always chosen the latter.
so these days, at home, bonz is either "naked baby" or in underpants – another recent addition he's pretty excited about. and when he's gotta go, he goes. we've had an accident or two but, we clean up and move on. easy breezy.
we haven't branched out away from the house yet. he says he's most comfortable in a diaper when we're out and about and i don't feel any need to push it. we'll get there when we get there. and i know he'll let me know when he's ready.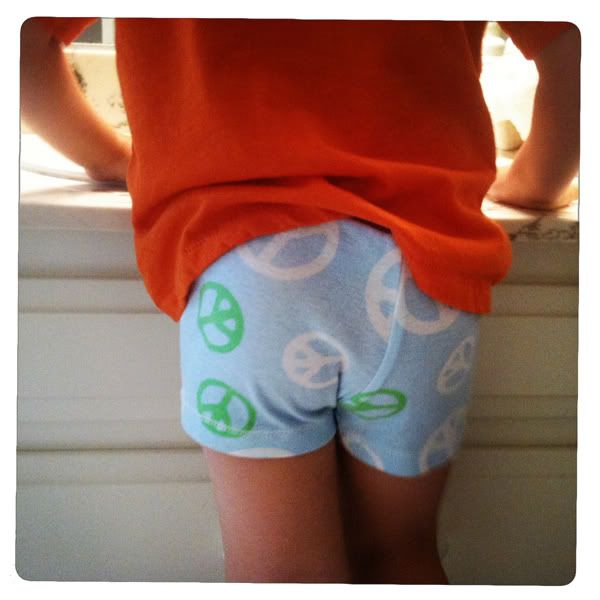 oh those buns. i love 'em.