oh, hello november. how'd you get here so fast?
this is the time of year where i start believing that fall is actually here. it's usually in the 80s until halloween here so the weather doesn't really help convince me that the seasons have changed. and even though the forecast still shows 80º temps for the next few days, it's hard to deny that it's fall when the calendar page gets flipped to november. it's just a slippery slope 'til the new year. hold on tight.
it was another homemade halloween this year – and baby's first! truth be told, halloween is probably my least favorite holiday. i mean, i like the sweet, wholesome aspects of it but i pretty much
loathe
the scary decorations, the churned out character costumes, the sugar frenzy. ick.
i'm secretly glad that bonzo hasn't become halloween-obsessed yet, too. he's pretty iffy about the whole concept and that's a-okay with me. i know it won't always be this way but i'm quite stoked to have another year with him happy not to go door-to-door and load up on candy. in fact, i'm thrilled that he has no interest in candy whatsoever. he's never had it and isn't even curious about it. ignorance is bliss – for me
and
him!
for the third year in a row, we had my mom, chooch's parents and two of our best friends and their two kiddos who are just about the same age as bonz and mushy over to have dinner, hang out and answer the door for the neighborhood trick-or-treaters.
bonz is equal parts intrigued and afraid of the kids coming to the door. he enjoyed from a distance. and since he was pretty uninterested in wearing a costume, i made him a costume that wore
him
.
some cardboard, an exacto-knife, hot glue and paint – and a little help from bonz – and
voila
.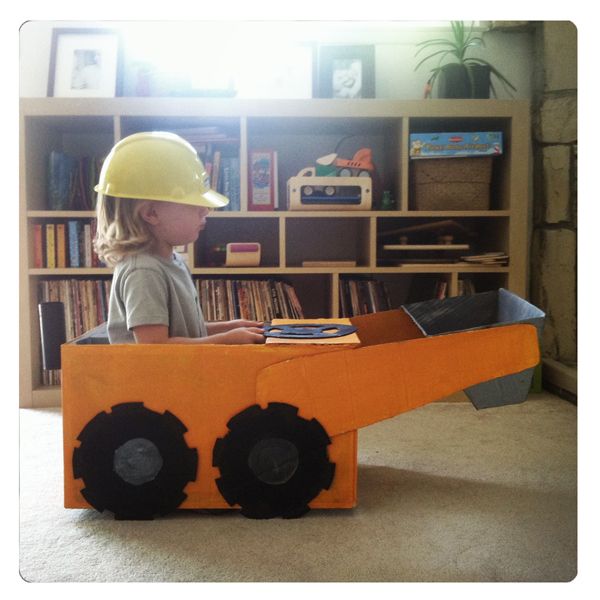 and who better to be a – cashmere! – apple than our sweetest baby girl? this was the fastest turn-around knitting project i've ever done. i decided at the last minute that i wanted to (at least try to) bust it out in time for halloween. there was some serious knittin' going on over here for the last few days! i found a simple leaf pattern online, knit my favorite beanie and there we had it: red yarn, brown i-cord, leaf and...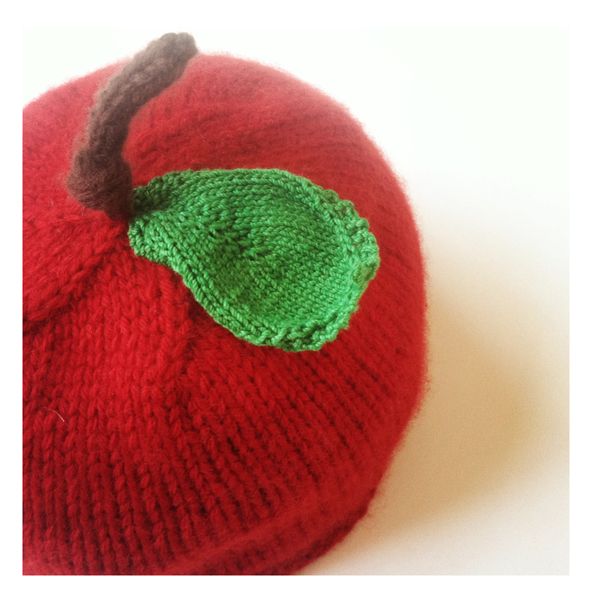 ... red
delicious
.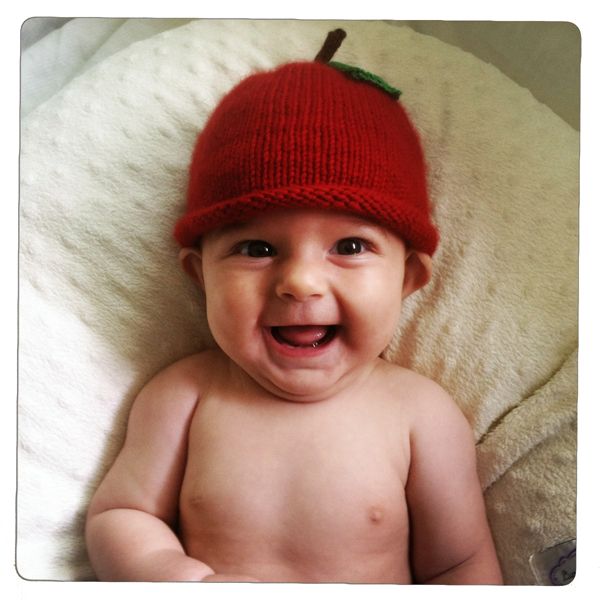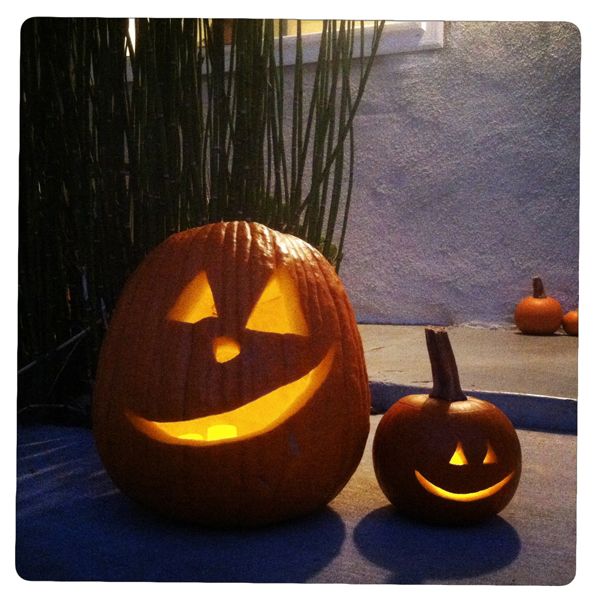 a few days ago, i'd pulled out bonzo's baby bear hoodie for mushy – she'll fit into it soon! bonzo pulled it out of the drawer yesterday and immediately wanted to get involved. explaining fit and sizing to a three year old? um, it falls on deaf ears. he was convinced it would fit if we could just give it a try. so we did and, truth be told, i was proven wrong. it did fit. according to bonzo, at least. so there we were, halloween morning, getting ready to zip over to whole foods, with bonzo in the teeniest, tiniest hoodie you ever did see and totally down to walk out the door and head on our way.
we got a few puzzled glances while we were out but he was pleased as punch in his skin-tight jacket.
much to choo choo's dismay, i decided not to buy enormous bags of fun-sized sugar bombs. so we tried something new this year. we're the house that handed out
pretzels
. still junk, if we're calling a spade a spade, but a little less junky than twix and kit-kats, right?
our first wave of patrons came and as i was filling little bags and jack-o-lantern buckets, choo choo saw one ten year old mouth to her gal pal with a touch of dismay, "it's pretzels." i didn't catch it but they politely said thank you and down the driveway they went, in search of what they
really
wanted.
then he told me what'd happened – it was the line of the night!
it's pretzels
.