i decided to step it up and make the chooch a meal he'd love – that otherwise i wouldn't exactly be inclined to attempt, let alone
eat
:
ribs
.
turns out they're the easiest thing in the world to make – and they're as delicious as they are easy.
i looked around online to get a feel for what to do and took a tid-bit of information from a few different recipes and set off to whole foods to see what i could do.
the butcher had organic baby back ribs which i knew i wanted to get – no gross chemicals, hormones, antibiotics. yuck. and organic wasn't
that
much more than conventional, i might add! i got just over 3.5 pounds and had him cut the racks in half so they'd fit in my crockpot and save me a (most unappetizing) step.
i asked him to recommend a sauce to use since i was in alien territory and he recommended marshall's rib sauce. i knew rib sauce would be sugary but my criteria for what i wanted was that it wasn't too spicy for bonzo (otherwise i'll hear, "it gives my mouth a
spice
!") and didn't have a long list of crazy ingredients on the jar. no high fructose corn syrup, no un-pronounceables, blah blah blah. so this one, while sweet, has a short list of real-food ingredients – and the ugliest label imaginable. without the recommendation i would have overlooked it based on that alone!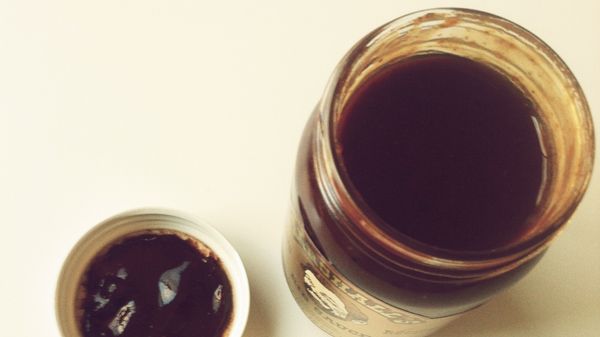 you'll need:
• 3.5 lbs baby back ribs
• a bottle of beer (or broth, or water even)
• an onion
• a couple cloves of garlic, smashed
• garlic salt
• BBQ or rib sauce
• crockpot
in the morning, lay the ribs (stacked) in the crockpot. dump a bottle of beer over them (or an equivelent amount of broth – water would also work but beer tastes best!). peel an onion, quarter it then toss it in along with your smashed garlic cloves. shake a bit of garlic salt on top, turn your crockpot on high.
there's no set time for these to cook. i put mine in the crockpot when i'm able to – 8:00 in the morning before zipping out to preschool or 10:30 when i'm home from the store. i just let them cook until dinnertime and they're always great.
about a half hour before you're ready to serve them, preheat your oven to 375º and take the ribs out of the crockpot with tongs and lay them in a large pyrex baking pan (13x9"-ish) as unstacked as they'll fit. cover them with whatever sauce you're using and put them in the oven for about 10 minutes. then cover them again with sauce and put them back in the oven for another 10 minutes or so. you're basically caramelizing the sauce on the already-cooked ribs.
and since the meat falls right off the bone anyways, you can just remove the bones and put the meat in a serving dish – and dinner's done!
i like to make a big green salad and serve it with biscuits or potatoes for a yummy, comfort-food dinner that makes everyone happy.
with 3.5 pounds of ribs, we're in leftover heaven, too – so the next day's lunch (and maybe even dinner) is done and done!
this is my go-to, make-my-husband-happy meal.
(bonus: me and bonzo love it too!)