believe me, i feel so lucky to live in such a beautiful place. it's easy to take for granted that we live where people vacation but i try not to. i make a point to appreciate the beauty around me every single day and feel grateful that i get to raise my kids in such an amazing town – where
both
chooch and i were born and raised – that has so much to offer.
a reader emailed me asking for some suggestions for fun, family friendly stuff to do in santa barbara and it got my wheels turning: how rad to come here for the first time and take it all in! so i decided to make it a post in case anyone else found themselves wanting to visit this beautiful place we call home.
the
santa barbara zoo
is an obvious choice. it's adorable. the perfect size for a little day trip to the zoo. i have mixed feelings about animals in captivity but, i have to say, our zoo is such a sweet and beautiful place and the animals are so well cared for. the giraffes have an ocean view, friends.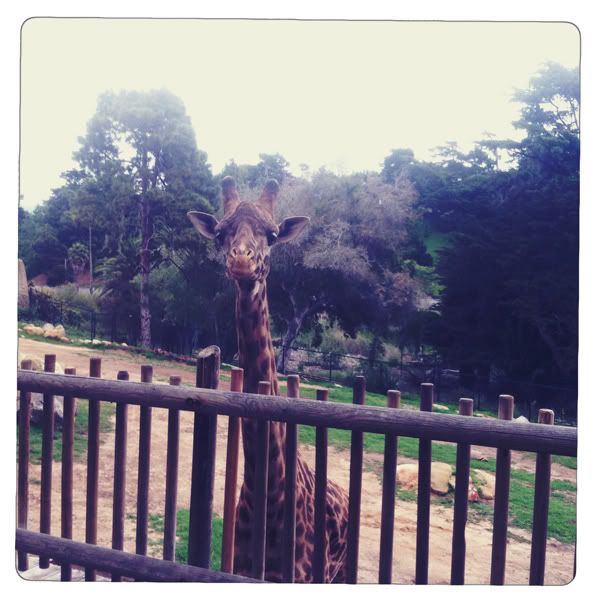 the
waterfront
is another slam-dunk place to check out – it's one of our favorite places to go. you can park the car and walk along the breakwater and take in the view: ocean, islands, mountains, town. gorgeous. you can ride the
lil' toot
over to
stern's wharf
and hang with the sting rays and leopard sharks at the
sea center
, cruise around, then hop back aboard and take a ride back to where you started. there's a
new little restaurant
at the harbor that we love to grab a quick bite at – we can eat outside and watch the fishing boats come in and unload their day's catch. of course you'll also find kayak rentals, whale watching trips, sunset cruises and all that stuff at the harbor, too.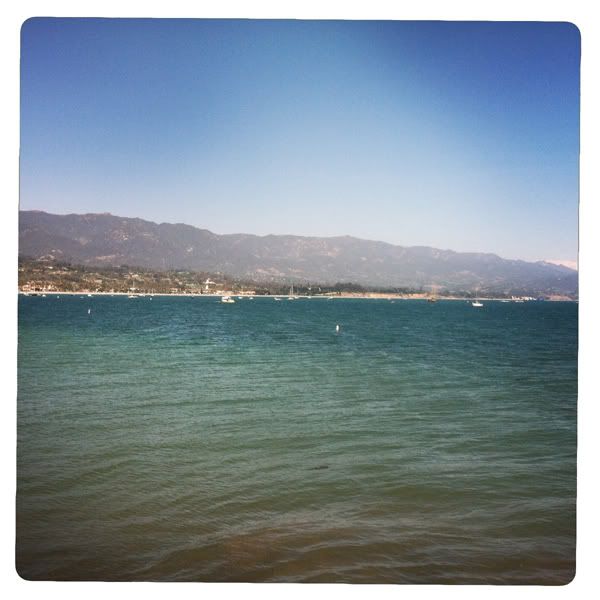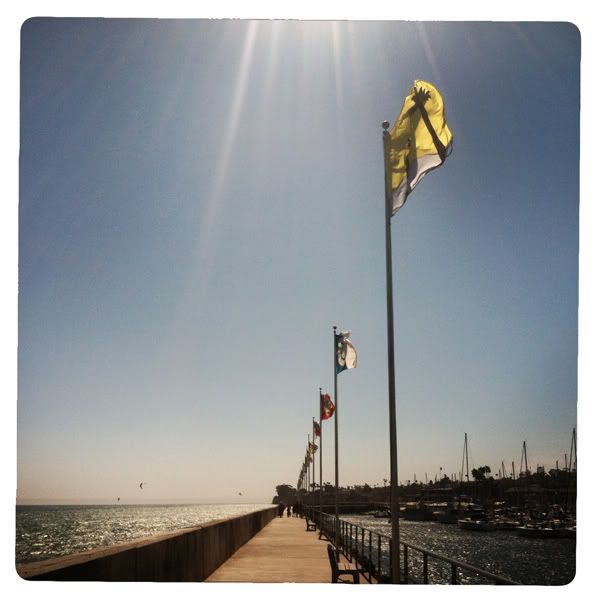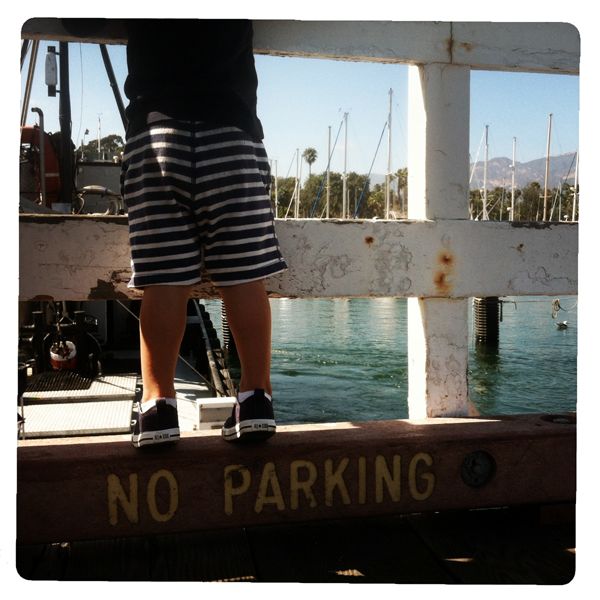 another waterfront attraction is the
land shark
– an enormous bus-meets-boat (seriously) that tours you through town then drives straight into the water for an ocean cruise. we've never done it but it does appear to be quite the attraction and could be worth a shot if you're feeling adventurous.
chase palm park
is another fun spot along the waterfront – there's a
carousel
and a playground and, in the summer, it's host to a series of free once-weekly outdoor concerts on the grass.
santa barbara is also home to a gorgeous
mission
with the most stunning rose garden – surrounded in an expansive lawn – directly across the street. grab sandwiches (
panino
is a favorite!) and a picnic blanket and
enjoy
. every year in may the mission is host to
i madonnari
, an italian street painting festival – tons of artists, music, food, fun.
a stone's throw from the mission is the
natural history museum
. to say it's beautiful is an understatement. it's set along a creek and amongst the oaks – it's such a special place. our favorite is their summer exhibit, butterflies alive – a huge, walk-through garden filled with plants and zillions of butterflies. and any time of year we always love to hit the museum
backyard
and explore, climb and have fun.
then just up the road from the museum is the
santa barbara botanical gardens
. this is a must. walk the trails and breathe in deep – the air smells like heaven. it's the perfect size for a family outing and it's so much fun for any age.
another favorite picnic spot is
alice keck park
. we love to run around and visit the ducks and turtles in the pond and walk the beautiful garden. just across the street is
kids world
– a
huge
playground.
another fun way to fill the day is a walk along
butterfly beach
in montecito. time it for low tide and you can walk and walk and walk. while you're in the neighborhood, grab a bite at
los arroyos
, our favorite mexican food restaurant. but if there's one place you must go, it
has
to be
rori's
for the best ice cream you will ever eat in your life. the woman behind it is as sweet as what she serves up: delicious, artisan ice cream with the finest ingredients you could imagine. when she recently opened up shop, we headed out for an afternoon treat – bonzo's first ice cream cone. it was a hit. (fyi: you can buy it by the pint at
whole foods
, too!) after your cone, zip into
toy crazy
which is just a couple doors down. it's the best toy store in town. thankfully there's not a battery-operated-elmo in sight – instead, it's filled wall-to-wall with an incredible toy selection that promotes and engages lots of open-ended, imaginative play. oh we could get into trouble there so easily – we'll take one of
everything
!
if you find yourselves in santa barbara from november to february, you have to have to
have
to visit the monach butterflies at
ellwood butterfly grove
. words cannot do this magical place justice. prepare to stand amongst thousands and thousands of fluttering wings in a eucalyptus grove along the shore.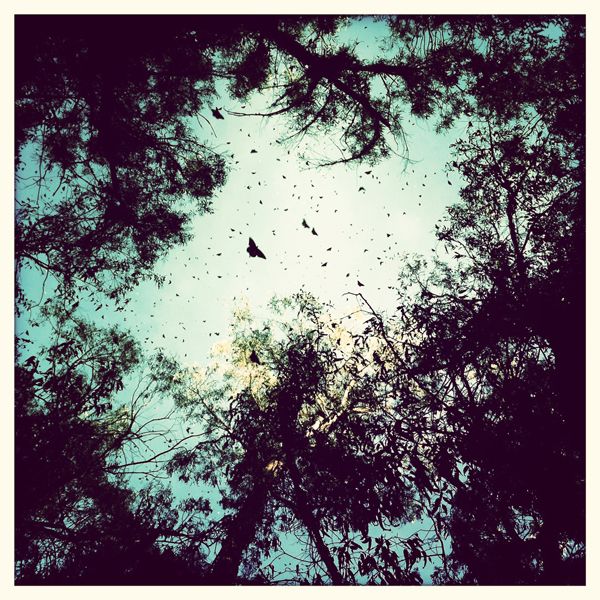 if you're up for a movie night, check the listings for
arlington theatre
– it's such a cool spot and makes going to the movies just a little more fun.
in the summer, we love to take a drive up the coast to the
u-pick blueberry farm
. it's about 25 minutes north of santa barbara – they give you buckets and point you to their fields where you can pick (and sample!) to your heart's delight. you can make your way over to
solvang
to shop, eat and see what's to be seen. there's a super fun
park
nearby, too.
head out to
lake los carneros
for a walk around the lake. it's right off the freeway but feels like it's in the great outdoors – we love to load up the jogging stroller and walk the perimeter of the lake and say hello to the ducks. if you're in town for the fourth of july they host a rootin' tootin' old fashioned
good time
.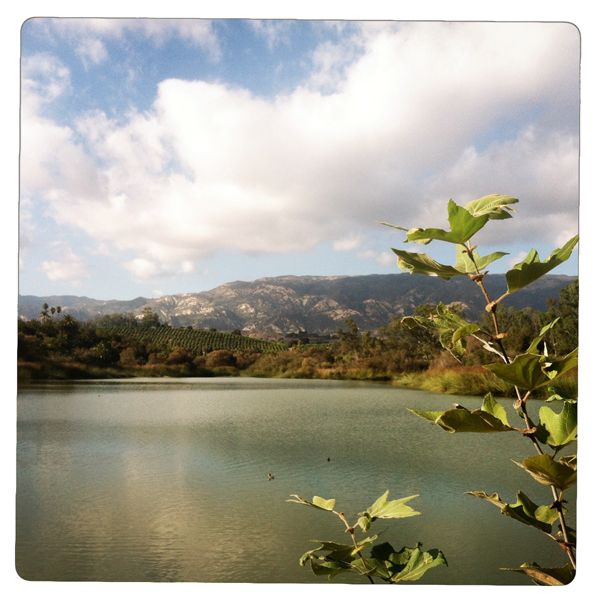 then there are our favorite
parks
. some have a more neighborhoody, local vibe and others are more well known – shoreline, la mesa, hidden valley, elings, willowglen and stevens park are a few of our faves.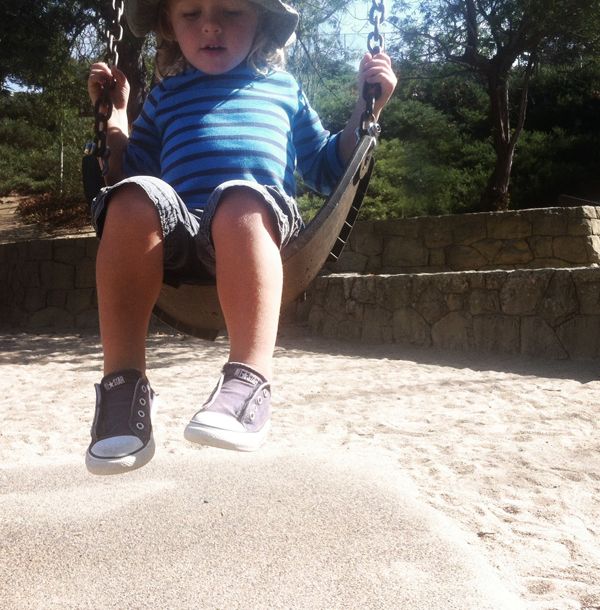 and no visit to santa barbara would ever be complete without a trip to
chaucer's
bookstore. their children's room is the
best
.
hopefully these ideas will keep you busy if you come visit santa barbara. i know i'm totally biased but i think this place rules!
[
top
]