yesterday morning in the three quiet minutes i had before we left to go grocery shopping, i opened up my
new favorite cookbook
to get a little inspiration. i wasn't really planning on trying anything from it because what we really needed to do was get out the door – as much as i wanted to flip through the pages and ooh and ahh.
but i turned two pages and quickly changed my mind. i saw a beautiful photo and an ingredients list that read like roll call for my garden: parsley? present. sage? present. rosemary? present. thyme? present.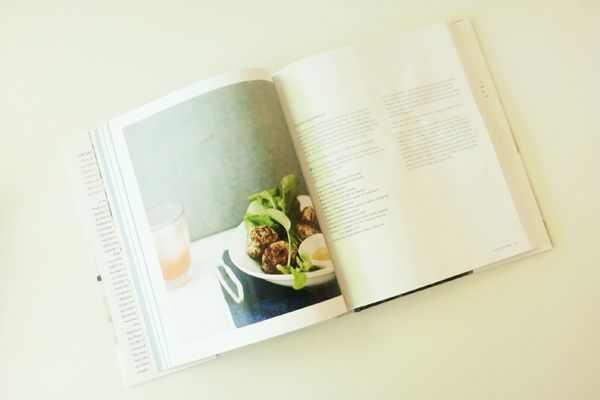 turkey meatballs for dinner it was!
let me back up a minute. meatballs aren't something i've ever made, let alone had any particular inclination to make. the less time manhandling raw meat of any kind, the better in my book. but in the spirit of trying something new – that, let's face it, looked easy and yummy – i decided to give it a go.
and there's even a recipe within the recipe, too. it calls for her go-to tomato sauce which is even easier than the meatballs. calling it a recipe is a stretch, really.
turkey meatballs. serves 4 easily.
1 small onion, roughly chopped
2 garlic cloves, roughly chopped
8 fresh sage leaves
8 large fresh basil leaves
leaves from 4 sprigs of thyme
leaves from a 5-inch sprig of rosemary
1/4 cup italian parsley
1 large handful of arugula roughly chopped
1 pound ground turkey – we used ground dark meat
1 teaspoon coarse sea salt
1/2 teaspoon freshly ground black pepper
4 cups (1 recipe) go-to tomato sauce (recipe below)
3 tablespoons extra virgin olive oil
combine the onion, garlic, herbs and arugula in the bowl of a food processor and pulse until very finely chopped.
transfer mixture to a large mixing bowl along with the turkey, salt and pepper. use your hands to thoroughly combine all the ingredients, then roll the mixture into golf ball-sized meatballs.
place the go-to tomato sauce in a large pot set over low heat and let it get warm (mine was simmering away because i started it just prior to making the meatballs).
while the sauce is warming, heat the olive oil in a large nonstick skillet (i love and use
cast iron
!) over medium-high heat. cook the meatballs, in batches if necessary, until they're browned all over, 2-3 minutes on a side (at least!). transfer the browned meatballs to the simmering tomato sauce and partially cover the pot. let the meatballs cook gently for 1/2 hour, carefully stirring every now and then to make sure they're cooking evenly. mine simmered in there for at least an hour. there's no room for precision timing at five o'clock around here!
she suggests serving it over gluten-free pasta, polenta or broccoli rabe – i spooned ours over orzo and made a big, green salad on the side.
a photo of the finished product would have been a nice touch but dinnertime is go-time around here. no time for the camera. i will say that bonzo loved loved loved it. i wouldn't classify him as overly picky or super adventurous of an eater, and i'll admit that i had some doubts about whether or not he'd like this dish... but it was a success – and will be in regular rotation over here!
and here's how to make her tomato sauce. it's easy as can be.
go-to tomato sauce. serves 4.
2 tablespoons of extra virgin olive oil
6 garlic cloves, thinly sliced (i minced mine)
4 large fresh basil leaves
two 28 oz. cans whole peeled tomatoes with their juice (try to find BPA-free cans!)
coarse sea salt
freshly ground black pepper
heat the olive oil in a large saucepan over low heat, add the garlic, and cook for 5 minutes. add 2 of the basil leaves and stir for one minute. add the tomatoes with their juice and the 2 remaining basil leaves. turn the heat to high. bring the sauce to a boil, turn the heat to low, season with salt and pepper, and let it bubble away on low heat for 45 minutes, stirring occasionally and crushing the tomatoes with a wooden spoon. i took my immersion blender to it instead so it'd be almost-completely smooth. i fished out the basil leaves, blended it up, threw the leaves back in and let it simmer for another hour, easily.
bon appétit!