just a quick but super heart-felt thank you to everyone who read about
what happened to mushy
, kept us in your thoughts, shared sweet words in the comments and took the time to email me. i was overwhelmed in the happiest possible way by the outpouring. friends – old and new – from all over the
world
got in touch. please know that all that positive energy has helped us in an immeasurable way. so thank you, everyone. really and truly.
we took the kids to the beach last weekend. it was june-gloom to the max but that didn't stop us from having fun. bonzo lives to throw the baseball, and mushy? well, she was happy as a clam to dig – and taste, obviously – the sand. it was a great day.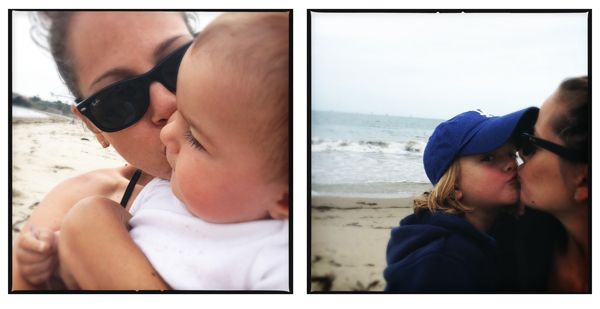 oh and this girl of mine is doing
amazing
. right on track – if not ahead of the curve, as per her doctor the other day! – for her age. see what i mean about all that positive energy? she's the proof that it helped.
we're going up to san francisco in august to meet with specialists... so keep us in your thoughts if you can. we'd sure appreciate it.
lots of gratitude, love and sandy kisses to you all... xx