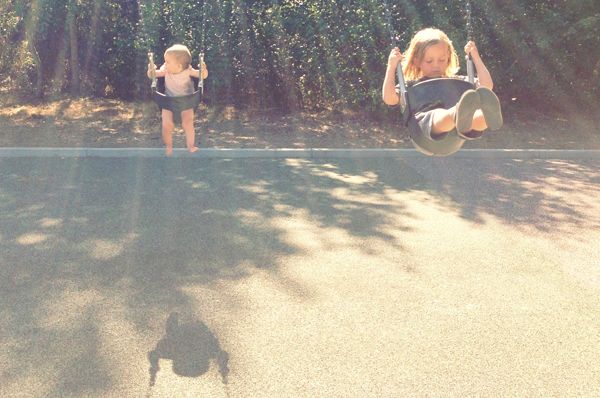 mushy, 13 months.
// this girl wasn't interested in solid food for a good long while. then, one day a month or so ago, she up and decided she pretty much
loves
it. now she's all in. her favorite foods: beans, salmon, rice, avocado.
// she's got six teeth and counting.
// anytime she hears something of note, she points to her ear with a very certain and very curious look on her sweet little face and proudly and matter-of-factly says – in her mushy little way, "hear!" or "hear it!"
// she loves her baby doll in a
major
way. she was my baby doll from when i was a baby but now she's most definitely mushy's. she calls her dada.
// stuffed animals. oh she loves them. not quite as much as her baby doll but they're a
very
close second. she hugs them so tight. her bitty little arms hugging her stuffed animals close to her face? it's just about the sweetest thing you could imagine feasting your eyes upon.
// real animals. especially dogs – she loves them. pictures or the real thing.
loves
.
// she started cruising a couple weeks ago. now she's practicing climbing – as in, i open the dishwasher, turn to grab a dish, look down and she's climbed onto the open door.
// anytime i sing, "i like to eat, eat, eat apples and bananas!" she immediately claps with delight.
// and at the first sign of a beat? she's dancing.
bonzo, 4 years.
// retains more information than i can even fathom. as in, he started telling me about e.m. (electro magnetic!) force and gravity the other day. okee dokey.
// he's been taking swim lessons this summer and is loving them. probably because he is
loving
his teacher – as in, first crush. it's just about as sweet as it gets.
// he says, "i love you mommy" throughout the day. he feels it and says it. and he's always down for a snuggle.
always
. he's a love machine, that guy.
// the other day i was washing my water canteen with mushy on my hip and she was shouting, "wa wa! wa wa!" and bonz heard me telling her that i was washing my canteen but that i would get her a sip as soon as i could. next thing i see is that sweet guy right next to us, popping the straw of mushy's water bottle and handing it to her so she could have the sip she needed. his face was beaming with pride.
// he loves baseball and has got quite the arm.
// current favorite song: midnight city/M83. but raconte-moi une histoire off the same album is a close second.
i haven't done an installation of
bonz-isms
in a (very) long while but here are a few of my recent favorites:
we were listening to boy dylan in the car and he very thoughtfully and seriously wondered aloud: "when one car [our car] plays bob dylan, do all the other cars on the freeway [with us] play bob dylan?"
"do humming birds make hummus?"
"what's the heck?!"
we were all marveling in the beautiful sunset one evening as we drove home, then we turned and the car was facing the other direction and bonz goes, "let's turn the other way. i can't see that beautifulness anymore!"
pointing to the sunscreen pooled up in the creases of his elbow he goes, "mommy, i have sunscreen in my armpits.
these
armpits!" (for the record, bonz, i didn't know what that
area's called
, either!)
"what's a movie?"
"mama, i'll be bob marley. you and mush can be the wailers."
these two, i swear. it's love.