it feels like the past four months have gone by in four seconds – but at the same time, it feels like i've lived four lifetimes.
on may 16th, out of the clear blue,
mushy had a stroke
. and it changed our lives forever. we were told so many things in those first hours and days and weeks. some of it felt hopeful, some of it felt horrible, some of it felt completely incomprehensible.
four months ago, one of the things i could not begin to grasp was that we may simply never find out why it happened. that felt like the most impossible, cruel and burdensome possibility to be faced with.
and yet, here i am four months later, thanking my lucky stars that the very outcome i dreaded is the one that's panning out.
existence is always new, ain't it?
i'll rewind.
mushy's recovery
from her stroke was both rapid and full. but it was also not exactly what we expected. like i said, we were told some pretty scary things. we didn't know how long recovery would take – and what recovery would even look like.
but our girl just picked up where she left off. she had recovering to do – make no mistake – but she didn't let it stop her. what we were told could take years seemed to take days. hours even. she was making noticeable strides every single day until she was caught up. it was nothing short of amazing.
in one sense, her recovery may have seemed like an end – she recovered, it's over. and i think that to many people it seemed to be just that. but for us, it was just the beginning. and although we've gone quite a distance, it's still not over. and what i'm realizing every day is that it may not ever be.
two weeks after we were discharged from the hospital, we were referred to specialists in san francisco – ucsf has a pediatric stroke clinic that's the best of the best. we got on the schedule with a two month wait.
it's so funny how even in modern times, some things still feel so old fashioned. we were gearing up to make the journey to go see the medicine-man. even though we loaded up in our suv and had gps guiding our way.
we arrived in the city with hopeful hearts. my mom came with us to help with bonzo and we made it into a family vacation. it was mid-august and by that point, mushy was right on track – if not advanced in some areas! – for her age, life was starting to feel normal-ish (big emphasis on ish) again and i wasn't as consumed with fear as i'd been for the previous two months. i mean, it was there – it's never gone away – but i was high-functioning in the face of it. i felt cautiously optimistic that we'd leave from our visit with the doctors with some peace of mind.
our meeting with the doctors (who are amazing humans) went well but, in the absence of further testing, wasn't conclusive in the slightest. in fact, what mushy was presenting was a bit unusual – even to them, the specialists that see this stuff with regularity. my hopeful heart sank deeper than it'd been the whole time. the what-ifs were suddenly magnified a thousand times over. we left there knowing we'd return again soon to do more tests.
that day marked the start of a dark, hard month for this mama. outwardly it may not have been super noticeable to everyone i ran across – i needed to be there for bonzo and mushy and could not (however tempting it was) dig a hole and climb into it. i was living life as normally as i could – life had to go on. swim lessons! preschool! sillies! but there was an ever-present, and sometimes debilitating, fear hanging over me that i couldn't escape. it's really beyond anything i can describe, to worry about your child. it's the hardest, loneliest feeling imaginable.
one month later we returned to san francisco, again with my mom and bonzo, but this time we were going to do more tests – and less vacationing. i had been dreading it. it re-opened wounds that had barely even begun to heal for both me and mushy – all four of us, really. she'd need to be fasting for four hours and be put under general anesthesia. the thought of not being able to nurse her for four hours and having her be terrified of medical procedures yet again? more than i could take. i explained to her at bedtime the night before her tests that we wouldn't be able to nurse in the morning until after her appointment, set my alarm for 4:30 in the morning then nursed her. when she woke up for the day she was a happy, busy girl ready to explore our connecting hotel rooms and play. she wanted to nurse a couple times but i reminded her that we had to wait – and she was fine. oh these tiny humans, they're capable of so much. and talk about projecting – i was so anxious and so resistant to going through it all again that i braced for the worst and thought she wouldn't be able to handle it. i continue to learn so much from this girl of mine.
so the morning i'd dreaded got off to as great of a start as we could have imagined. i still had the massive and incessant fear about her going under anesthesia, having to have another mri, being separated from her – and, of course, the worry we'd find out something horrible. but my main priority was that she felt as safe as possible so i tried as hard as i could to be strong for her. a crumbling mama was not what she needed and watching her ease that morning made me feel strong, not just act strong. in the end, she only had to endure a few moments of feeling scared and thankfully she was in my arms until she was asleep then woke up right next to me – a little groggy and a little loopy with a smile on her face, ready to claim the nursies she was promised. my girl.
the next 24 hours were strangely peaceful. the tests were behind us, it went off without a hitch and we just had to wait to talk with the doctor. i felt anxious, obviously. but not buried in fear. it was like letting whatever-you're-holding-onto so tightly go, knowing you'd done all you could and that it was in the hands of the universe now.
the next day the doctor told us what we'd hoped to hear: there had been no changes to her imaging other than the expected and normal changes in the area where her stroke occurred. she did not see the markers that would indicate reoccurrence in mushy's imaging. i repeat: she did not see the markers that would indicate reoccurrence in mushy's imaging. they've exhausted every avenue to find an underlying cause for why it happened and have come up empty handed and we were basically getting the best news we could have hoped for – you know, the very news that i couldn't imagine hearing four months ago: it was an idiopathic event, no known cause. short of hearing that it would never, ever happen again ever, it was the best possible outcome.
you'd think i was doing backflips and shouting from the hilltops but i felt next-to-nothing. well, i felt some relief of course but it wasn't the huge "phewwwwwwww" you'd expect. it was too big to feel, really. it's relieving – as relieving as it can be that my baby girl had an unexplainable yet significant neurological event at eleven months of age – but i'm not stickin' a fork in it, you know? the feelings have been slowly seeping in for the past week or so for sure and i really think the only thing that will help is time. i watch my sweet girl thriving and that's what helps the most. i think we all need some space put between what happened and our present moment. we need to get back to business and start feeling and living a little more normally – and hopefully with that, the hard stuff to feel will fade a bit and the good stuff to feel will fill up its empty space.
so there you have it. this is where we are right now – happy, healthy and very, very, very thankful.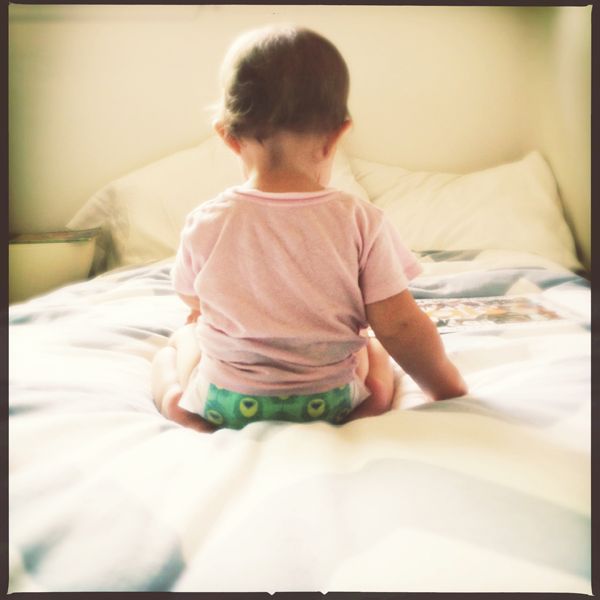 i've learned so much – so much – while on this little journey and i have much more to write. i hope to/plan to find the time soon.