she's on her feet, this girl. she took her first steps – right in front of bonzo, chooch and me – on august 30th. truth be told, she took a few steps a week or so prior but we're calling the official day of her first steps the day we all saw them. the three of us stood there frozen and silent, watching her take those careful steps, knowing we were witnessing something so special, all together at the very same time.
i sort of forget how it unfolded with bonzo. my hazy memory seems to recall that he took a few steps, more the next day, even more the following – until walking took over completely from crawling.
but mushy's taking her time. and i can't say i blame her – crawling is just so quick and efficient, and walking is a little wobbly and a whole lot slower. for now at least.
so she took her steps then took a break. then revisited the idea a week or so later. and she's been working on it in phases since. though she's been stepping up her game (pun intended!) in the past couple days – steps, steps, steps!
now this would be exciting under any circumstances for sure. but given hers? it's
beyond
exciting.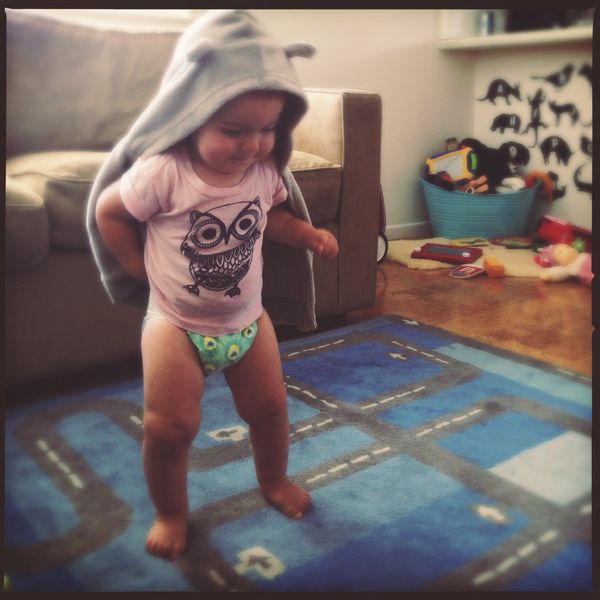 also thrilling is listening to all the things this girl has to say. she's been loadin' up on words lately, too.
my last ballpark figure was 25 words though just in the last couple days she's left that one in the dust.
and what she
understands
is amazing.
she loves to be asked questions so she can either nod and answer in her usual, "yeah!" or "yeah, yeah, yeah!" or sometimes shake her head (and shoulders) to say no.
and she's been working on adding words together, too. she loves to say goodbye to her daddy in the morning – not because she's happy to see him go but because it's so fun to bid him farewell, "bye bye, dada!"
and anytime she sees a sleeping baby – either in real life or in a photograph, or in this case, a drawing of her favorite sleeping bunny – she'll say, "ni-ni, bay-bee!"
her breathy little voice is so sweet. i wish i could bottle it up.