this time of year a steaming hot bowl for lunch or dinner almost always sounds delicious. so this recipe has become a serious go-to for when i'm sort of tempted to get take-out because i don't want to deal but i know i'd much rather have something homemade.
it's the happy medium really – it's
definitely
not from scratch but, when you use high quality ingredients and let the art of simmering do its thing, you get a really yummy, pretty healthy and very easy meal with minimal preparation. and not just the prep of chopping and measuring – like, you can pretty much pull this together from the pantry and freezer so it's perfect for when you want to squeak out another meal or two before going to the store.
the measurements are loose. use what you have or like in whatever quantities seem right to you and it'll be great.
1.75 lbs grass fed organic ground beef (or organic dark meat turkey)
1 tablespoon organic olive oil
1 large onion, finely chopped
3 garlic cloves, minced
2 jars of organic salsa (i use mild so everyone'll eat it)
2 cans of organic kidney beans (i like
eden organics
)
1 can of organic black beans
1 can of organic pinto beans
3 cups chicken stock (i pull from my
stash of homemade
in the freezer but organic store-bought broth would do, too.)
2 tablespoons high quality unsweetened cocoa
2 teaspoons chili powder
1 scant teaspoon dried oregano
1 scant teaspoon ground cumin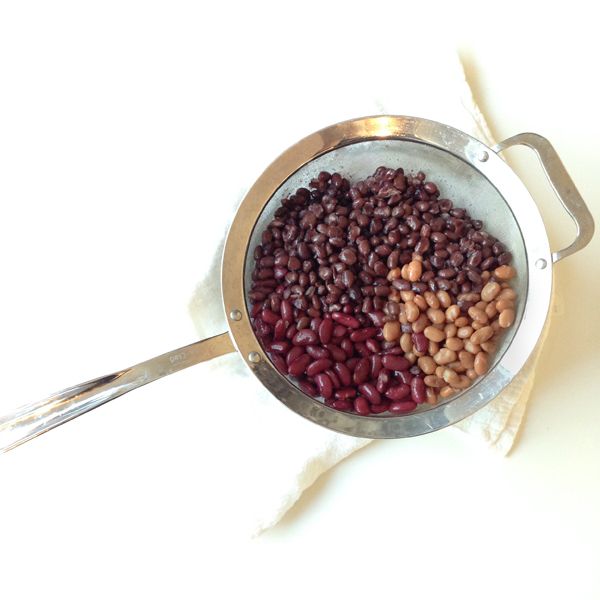 in a large pot, heat 1 tablespoon of olive oil and cook the ground beef (or turkey) with the onion and garlic until the beef is no longer pink. stir it to break up the meat into crumbles, drain. put back onto the stovetop. rinse and drain canned beans in mesh strainer or colander. add beans, salsa and broth, then chili powder, oregano, cumin and cocoa. bring to an almost-boil then reduce heat and simmer, stirring occasionally.
i let it simmer for a few hours. it could go for as little as 30-45 minutes but the longer it simmers the better it tastes.
i like to let everyone top theirs as they please, choosing from shredded cheddar cheese, fresh chopped cilantro, diced red onion, avocado slices and sour cream.
cornbread on the side is optional but most appreciated!