i love our house. love love love it. sure chooch and i are always dreaming and scheming of what we'd change about it, how we'd remodel, what's next on our to-do wish list – but i love it just as it is at the end of the day.
it's our little home for our little family and we're making such great memories here so, because of that, part of me wants it to never ever change.
with that said, though, one little thing that needed to be rectified this christmas season was the mantel situation. or, i should say, our
lack
of mantel situation. last year we skated by but this year? this year the stockings needed somewhere to hang.
part of the master plan is a fireplace overhaul but since that's not happening between now and christmas (to say the least!) it was time to get creative. i pinned
a cute idea
in passing to my
holiday board
on pinterest a while back and then elaborated on it a bit to suit our needs. and, like all my plans that'll require some doing on the choo choo's part, i pitched the idea to him to figure out the engineering details – in this case, drilling into stone!
now, if this were our dream fireplace, i wouldn't be suggesting such a notion but then, our dream fireplace would have a place to hang stockings, wouldn't it?
we set off on a morning walk through the eucalyptus grove near our house and looked for a just-right branch. not too small (it'd look puny!) but not too big (because obviously). of course the chooch found the right one and like the sweet one he is, hauled it back to our house and proceeded to cut it to the perfect size and file the edges nice and smooth. once he gets on board with my ideas he takes it to the end zone, that guy.
then he drilled two tiny holes into the top stones and hung little hardware hooks of sorts. then i wrapped our new mantel with jute twine and tied it up so it hangs in just the right spot. then i tied the
stockings
to it with a little red twill-tape, hung our boxwood wreath and just like that: ready for santa!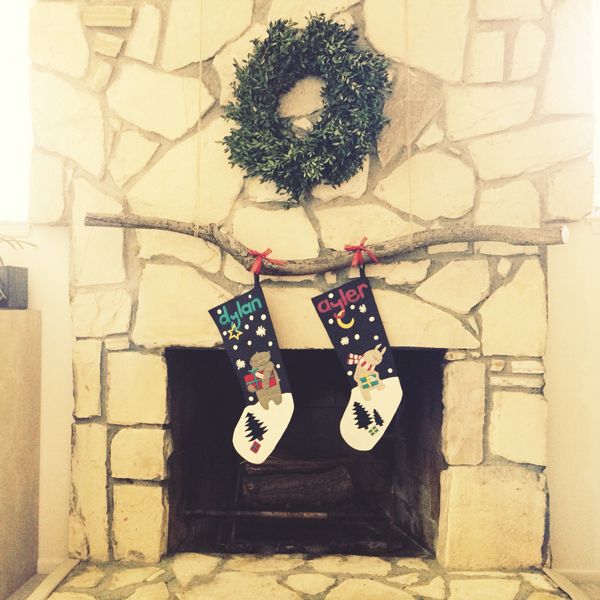 it's beginning to look a lot like christmas – and it's pretty great.