tuesday mornings are a big deal around here. at 7 o'clock sharp, from around the corner we can hear the distinct but still distant sound: the recycling truck. as soon as mushy hears it, she points to her ear and says, "beep beep beep!" then it's a mad dash to the front room to pull up the shades and assume position and wait those few anticipation-filled moments until the driver turns around and proceeds to back up – beep, beep, beep – down our cul de sac, hoisting up that ubiquitious blue can with its automated arm and throwing our recyclables into the hopper.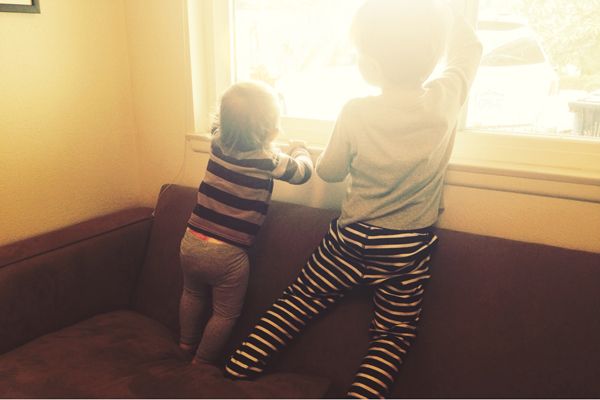 it probably goes without saying that we're big recyclers around here. for all the obvious reasons, you know, like saving the planet – and not just so we can get a show on tuesday mornings. though that's clearly an undeniable bonus.
so of course i was more than happy when
REPREVE
offered to send us a couple of their green beanies made from six recycled plastic bottles to check out and review. heard of
REPREVE
? they're the company that makes a
fiber
from recycled bottles. so that bottle that just got dumped in the back of the recycling truck? that has the potential to become a fiber which can then become a swim suit, a jacket, a beanie, or, you know, the
interior of a car
. seriously.
and
REPREVE
is the kind of eco company i can get with – instead of
creating
waste in the name of saving the environment, they're actually using a material that's already been made and consumed – and making a
variety of products with it
. so it's not only super sustainable but the potential for end-use is limitless.
the beanie they sent? it's soft and cozy and warm. the fabric feels substantial and
nice
. and if leaf-green, logo-emblazoned beanies aren't your thing, you're in luck – companies you're already digging (think
patagonia, the north face, vitamin a swimwear
– even
ford
cars!) are using it in their product lines. so when you see the
REPREVE
logo on something while you're shopping, know that something you – or maybe even bonz! – recycled could have been used to create it. and know you're stoking our planet out by buying something that's reducing the amount of wasted resources headed straight for the landfill.
bonzo's mind was slightly blown as i was telling him that six plastic bottles were recycled to make the very beanie sitting atop his little head. his wheels were spinning:
this
beanie? six water bottles? pretty impressive.
[this post is sponsored by REPREVE. but the words, thoughts, opinions are my own!]