my friend made soup
that was based on a
recipe from a blog
which was based on a recipe from a book. then i made it based on what i had in my fridge. and it was amazing. it's so easy to make, and like most of my favorite recipes, the quantities are loose at best and ingredients are just a framework. add what you have or what your people like the most. i made this last week and again this week – that's the definition of a hit around here.
ingredients:
1 tablespoon extra virgin olive oil
1-2 carrots, chopped
1-2 ribs celery, chopped
1 medium onion, chopped
1 bunch dino kale, torn off ribs and chopped
1 garlic clove
8 cups organic chicken broth – i pull from my
frozen reserves
but boxed would do.
1 teaspoon parsley flakes
1/2 teaspoon dried thyme
1 bay leaf
2 organic chicken breasts, cut in half
1 large organic sweet potato, peeled and chopped into small pieces
1 large organic russet potato, peeled and chopped into small pieces
pasta, brown rice, quinoa, or other grain of your choice (or none. with the potatoes it doesn't really need it. both times i've made it i've used pasta and didn't regret it.)
salt & pepper
heat oil in large soup pot over medium heat.
add carrot, celery, and onion – season with salt and pepper and sauté until tender.
add kale and garlic and sauté for a couple more minutes.
add chicken broth, parsley flakes, thyme, bay leaf and bring to a boil.
add chicken breasts and cook for about 10-ish minutes, until they're no longer pink in the middle. remove chicken to cutting board.
add sweet potato and russet potato to boiling broth. if using pasta or quinoa, add it in here. (i would make brown rice separately if using and add it in cooked.)
cover with lid, then cook over medium heat or until potatoes are tender and grain is cooked.
cut chicken into small sized bites then add to soup. remove bay leaf. salt and pepper to taste. leave to simmer as long as you'd like.
bonz liked his topped with a heap of freshly grated parmesan – but then, he'd eat pancakes with freshly grated parm.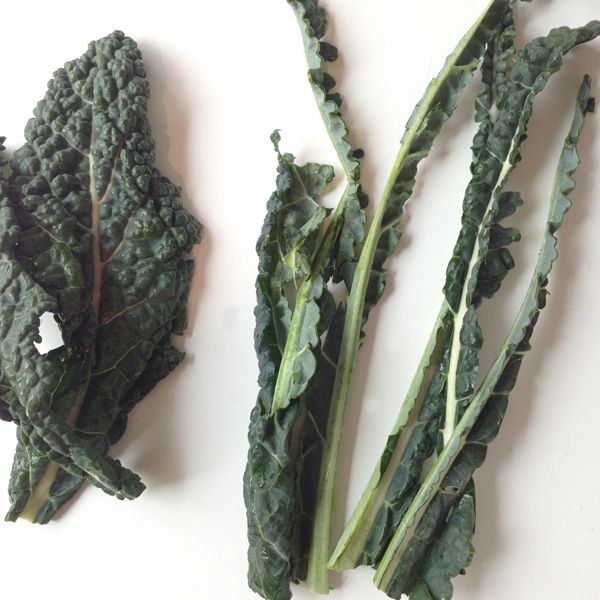 since there's always plenty of kale left on the rib after i trim them, i set the stack of ribs aside to juice with a few whole leaves while the soup's simmering. so that makes for a great day: juice and homemade soup!