i've sort of neglected this space for the last couple weeks. so i think a little
this-and-that
post is in order to get back into the swing of things.
we had quite the rainstorm a couple weeks ago so naturally we built forts inside to get cozy and read in. like any self respecting fort builders, we used what we had on hand: a flat sheet, the furniture and some of the chooch's fancy shop clamps to get the job done but i can't deny that some new building supplies – like
colorful fabrics
and beautiful
wooden clips
– could really take things to the next level. or at least make it a little dreamier.
i recently upgraded my reusable water bottle situation and it pretty much revolutionized my day to day. i was using
one
that totally sucked (sorry, guys. but we loved your
teethers
!) for longer than i should have considering my disdain for it and the fact that it's something i use seven days a week. anyways, these new ones are ruling my world right now. i started off with a
small one
but then added a
big one
to our repertoire so we're never without ice cold water. i know room temperature water is the best way to go but the fact remains that i – and subsequently bonzo and mushy – much prefer it arctic cold. and these deliver. our water stays ice cold all day long and the bottle itself doesn't sweat and get everything soaking wet. so i can check that off my list!
week before last all four of us (bonzo, chooch, mushy and me) went down to los angeles. we were asked by
skip hop
(!!!) to join them at a photo shoot for the launch of a new diaper bag. it was such a fun way to spend an afternoon – i'll have more on that soon!
and speaking of photo shoots, my friend
samantha
put together a piece for the spring issue of a
local magazine
and look who was with her – us!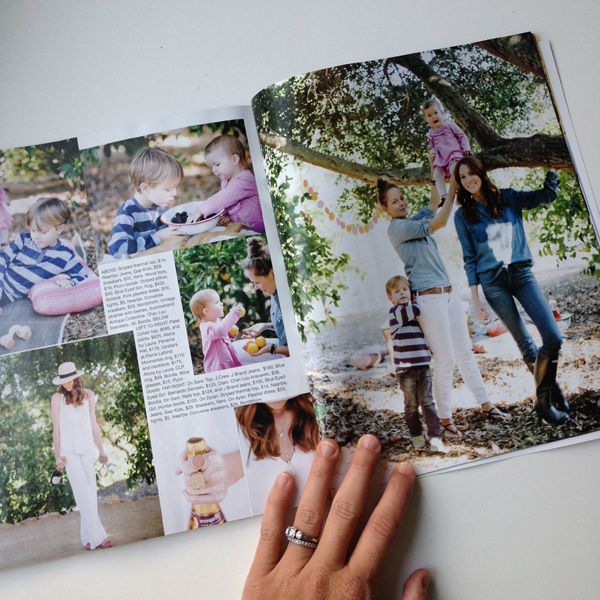 if you've got a pinterest account, chances are you've seen a pin or twenty and/or tried a batch of overnight oats. a
post
i read last week inspired me to finally gave it a go and am pretty sold on it for an easy breakfast for the warmer days ahead. also, i'd totally recommend keeping tabs on
this mama
. not only is she a local girl but her book, blog, instagram and pinterest (not to sound like a total stalker) are filled with great recipes and lots of beauty.
i'm
always
early for preschool pick-up, too. i loved
every single word
of
this post
. (
another mama
to keep close tabs on – she's a beauty inside and out, this one.)
i had a huge
i-have-a-little-girl
moment last week when the
sandals
i ordered for mushy arrived. squeal! hello, spring.