this week went by too fast. they seem to be doing that routinely these days. here's some of the latest findings and happenings from around here:
last weekend i filled my empty pots in the backyard with a new batch of fresh herbs. i'm so happy to have them all lined up, just waiting for me to snip from. while we were at the nursery, we got a container of ladybugs – when we popped the top approximately 1500 of them came out to greet the kids. mushy didn't know whether or not to be freaked out or intrigued but bonzo was in heaven holding them and letting them crawl all over him. he was naming them and making little homes and nests for them. such fun. and rad for the garden so double win!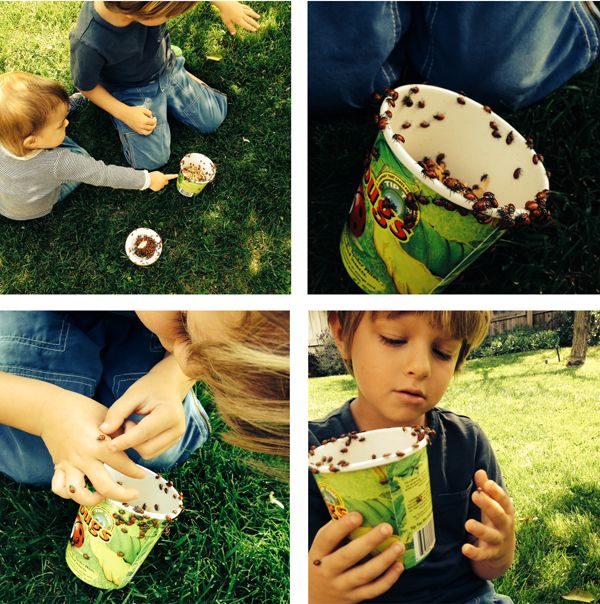 i got sample of this
shampoo
and
conditioner
and all i can say is:
yes please
. i need to treat myself to the full-sized bottles soon, i think. it's practically the same price as my
everyday stuff
but it feels like a major splurge sitting on the shelf in the
fancy store
so i'm hesitating.
every time we go to the library we check out a
serious
stack of books – and from the stack, some are hits and some are misses but every time there's always one or two of the books that stands out as a clear favorite. this go around the winner is
my visit to the aquarium
and both kids are
obsessed
with it. i love seeing what they're drawn to, what captivates their little minds.
speaking of reading, my sweet mama got me a new
little something
the other day just for fun. i'm excited because i haven't been reading as much as i'd like to so i have a feeling this is going to be a game changer. the one-click book buying may prove to be dangerous but i'm going to attempt to stick to a buy-and-read one (or two tops!) at a time rule. so right now it's just my wish list that's busting at the seams.
and last but not least,
i'm addicted
. but have yet to see
this little number
on the shelves – and maybe that's a good thing. i could buy these bars by the dozen.
have a happy weekend!