you'd think that i'd be accustomed to the fact that i have a little girl by now but i swear it's still sinking in. sometimes it hits me when i'm doing something simple like folding laundry – i'll suddenly notice how sweet the stack of tiny girl clothes are folded next to the stack of little boys clothes. or i'll get completely giddy ordering a pair of itty bitty sandals. or i'll look over and see mush pushing one of her baby dolls in its stroller (while beep-beeping as she backs it up – girl likes her trucks, too!) and just lose my breath for a minute.
but a bellwether moment just took place around here and took it all to the next level. i'm talking about mushy's first pigtails. they just occurred – barely – and i have to tell you that it's pretty juicy stuff.
now, when i say barely i mean barely. she's got just enough wisps in the back to be sectioned off to two teeny piggies. but the bits in front? well, they haven't quite made it to the party yet.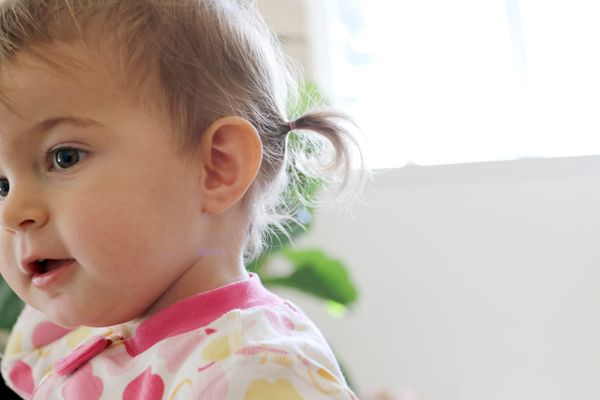 they're the tiniest, wispiest, sweetest little tails you ever did see and they make my heart burst just thinking:
i have a little girl
.