a couple months ago, our friends at
skip hop
invited us to join them on their west coast photo shoot in los angeles. and needless to say we leapt at the chance.
one of the things they were shooting was their brand new, re-launched
duo signature diaper bag
. if you're familiar with skip hop then you probably know they have
quite the line-up
of diaper bags. there really is one for everyone – and they're as functional as they are cool. i've always gravitated toward them because they're simple and minimal in appearance but well made and really well thought out. i can't stand digging through my bag to find what i need. i like it when everything has its place and can be found with quickly with one hand – and a baby on my hip.
so when they re-launched their
signature duo bag
i was all ears: i loved the idea of them perfecting something that was already pretty perfect, secretly wondering if it was even possible. will it make me coffee or clean my house?!
turns out i'm on my own for my morning cup and chores but they did make a pretty rad bag. there is a pocket for everything –
everything
. my favorite is the dedicated pocket for my phone. i can reach it easily and it's even lined to keep my phone from getting scratched.
there's a strap to wear it cross-body and tote handles, too. the top zips so everything stays inside and deters spontaneous contents-purging (mushy, i'm talking to you!) at the least convenient times.
so skip hop asked me to share what my diaper bag essentials were – what i carry on the daily so we've got what we need (and can find it when we do!)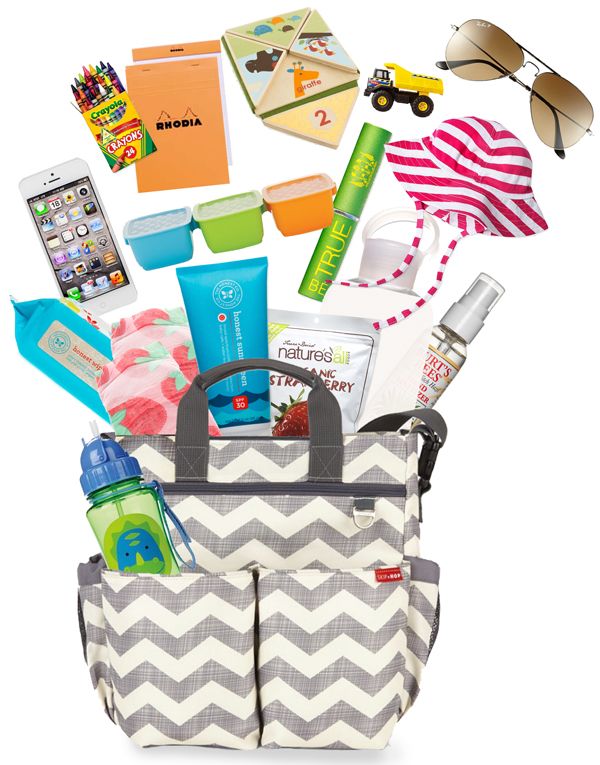 from top: crayons and mini-notebooks for doodles,
small toys
to keep busy hands busy,
sunglasses
,
sun hat
, lip balm (and since anything on my lips winds up on little cheeks, a
super natural one
is important),
skip hop bento mealtime kit
for snacks – like
these
, phone,
wipes and dipes
, sunscreen – always,
more
snacks
,
water
,
hand sanitizer
, and
more water
. all packed in the
new signature duo
and ready for the day!
and now to the part where
you
come in: to celebrate their brand new signature duo, skip hop is gifting two readers – it is the
duo
, after all – with a signature duo of their choice. head over to
skip hop to check out the line-up
and leave a comment below with your favorite color. be sure you include your email address so i can reach you to let you know you've won! and follow skip hop on
instagram
and
facebook
to keep tabs on the cool stuff they've got going on, too.
so enter now! i will choose a winner – actually make that
two
– at the end of the day on monday, june 16, 2014. (psst – skip hop can only ship to addresses in the united states and canada.)
good luck! you'll
love
this bag.
oh and you can see a little
behind-the-scenes video of the shoot here
– don't blink and you might spy bonzo, chooch, mushy and me!